'TAVR has added a lot of years to my life'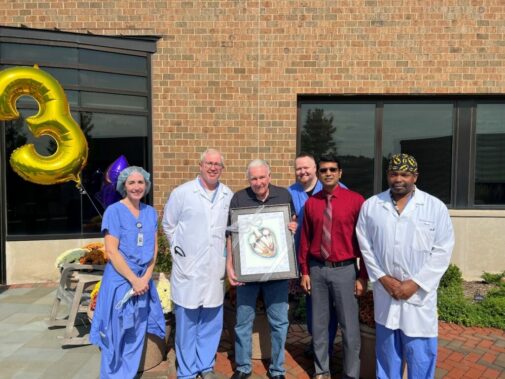 Three years ago, Mr. James Wicker, 77, a retired firefighter, couldn't make it to the mailbox.
"I had difficulty walking without running out of breath," Wicker explains. "It was a big slowdown in my life in general."
He recently celebrated the third "birthday" of having a heart that works better thanks to a minimally invasive treatment for aortic stenosis, transcatheter aortic valve replacement (TAVR), which he received at Advocate Good Shepherd Hospital.
"TAVR has added a lot of years to my life," Wicker explains. "With the TAVR, the day after I got home from the hospital, I was able to walk around and feel like myself. Now, my partner and I have as much fun as we can like riding motorcycles and enjoying our families."
As we age, calcium or scarring damages the aortic valve in our heart, narrowing the opening, restricting the amount of blood flowing through and significantly limiting what the body can do. Over time, simple things like cooking dinner or walking to the front door become impossible. Without intervention, aortic stenosis slowly robs people of their quality of life, especially for people over the age of 65.
"Overall, his heart is significantly improved," explains Dr. Hetal Gandhi, Mr. Wicker's cardiologist. "Since his TAVR procedure, Mr. Wicker hasn't been hospitalized for his heart, and his quality of life is greatly improved. He can still do what he wants to do."
1-3 years. That's how long most people with aortic stenosis live after symptoms develop. For those unable to withstand open heart surgery and many people over the age of 75, aortic stenosis – a narrowing of our aortic valve that impacts 1 in 5 older Americans – was a death sentence. Mr. Wicker was the first patient to receive a TAVR at Advocate Good Shepherd, and he's still going strong.
"Aortic valve replacement improves not only quality of life but patients live longer," explains Dr. Jeff Freihage, an interventional cardiologist at Advocate Good Shepherd Hospital who performed Mr. Wicker's TAVR procedure. "The benefit of TAVR is that we can provide a higher quality of life without the long recovery or risks associate with open heart surgery. With TAVR, patients have a definitive life-saving procedure and get back to their lives quickly."
To better understand your risk for heart disease, click here to take a short quiz about your heart health.
Related Posts
Comments
About the Author
Kristen Johnson, health enews contributor, is a public affairs and marketing manager with Advocate Aurora Health. She previously worked as a speechwriter and staffer on Capitol Hill. She enjoys running marathons, good coffee and exploring Chicago's many neighborhoods.