This nurse is on a mission to educate others about suicide awareness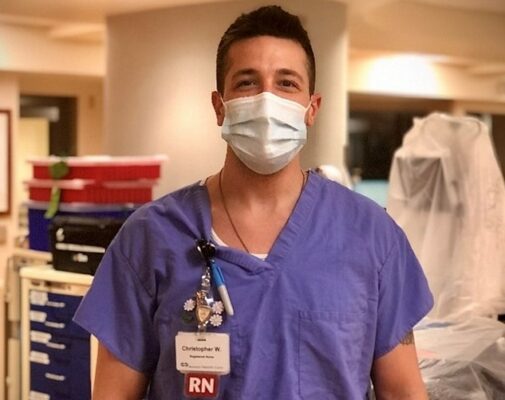 Christopher Wojnar says his purpose in life is to positively impact as many people as possible.
"If I can help somebody else through my experiences from what I've learned, through the things I've been through, to take a bad situation and make it a positive one, that's what I want to do," he says.
Wojnar is a nurse on the neurological intensive care unit at Aurora St. Luke's Medical Center. Six months after starting that job, he reconnected with a childhood friend.
"We reconnected and in August of 2018 he died by suicide and that was pretty much one of the most defining moments in the work and the path that basically has resulted where I am today," says Wojnar.
Not long after Wojnar lost his childhood friend, he lost several of his nurse colleagues to suicide. He wanted to do what he could to his help his friends and coworkers.
"I thought about what we could do to provide some education or create awareness about what we can do when we see someone struggling," he says.
That led him to the Zero Suicide work taking place at Advocate Aurora Health. He wanted to extend that work to health care workers.
"That ultimately led to collaboration with our Employee Assistance Program, developing a postvention suicide tool kit for team members, really ramping up our suicide interventions from the Employee Assistance Program, developing a Zero Suicide learning connection module, and just trying to create awareness and develop some solid education for basic warning signs," he says.
That work led to the Together As One peer support program. The Together As One Program is a peer support initiative that enables team members from all departments across Advocate Aurora Health to recognize and intervene when a peer is impacted by stress within the workplace. As of September 2022, 1,090 team members have become trained peer support ambassadors.
"It is amazing to see all the people who are interested and people who have reached out throughout the system to be involved with that program, and what it's meant for them, too," he says. "Because it's not only the message that it shows about being together as one and the culture of being there for each other, but it's also the skills that it teaches people to be there for others and what it means to use the skills for yourself as well."
Wojnar says it is important to have as many people as possible participate.
"I think it's important for organizations, and people to reach in, instead of always expecting others to reach out. When reaching in, it's important to do that in a way that is supportive," he says.
As the chair of the Advocate Aurora Health System Nursing Professional Development Council, chair of the Aurora St. Luke's Medical Center Site Nursing Professional Development Committee and member of the Aurora St. Luke's Medical Center Site Nursing Shared Governance Council, Wojnar plans to continue using his passion to reach in and help as many people as possible.
"A passion for making the choice to take tough situations and use them to help others has guided me as a professional nurse, dad, husband and son."
Advocate Health Care and Aurora Health Care offers behavioral health treatment and programs. Learn more about your options: Illinois | Wisconsin.
Related Posts
Comments
About the Author
Brittany Lewis is a media relations coordinator at Advocate Health Care and Aurora Health Care. She previously worked as a reporter at TV stations around the Midwest, including Milwaukee. She studied at DePaul University where she majored in Journalism and Public Relations. Brittany enjoys traveling, hanging out by Lake Michigan, trying new restaurants and spending time with friends and family.