Should you be screened for anxiety?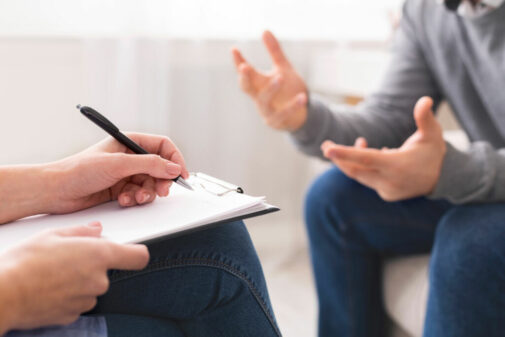 Following a couple years of a pandemic, endless stressful news events and economic uncertainty, an influential panel has tentatively recommended that all adults under 65 be regularly screened for anxiety.
The U.S. Preventive Services Task Force, the government group that provides recommendations on many kinds of health screenings, already recommends that patients be screened for depression when they come in for a checkup with a doctor. And in the spring, the task force recommended anxiety screening for children ages 8-18.
"This recommendation just further acknowledges how important your mental health is to your overall well-being," Advocate Aurora Health Population Health Vice President Dr. John Brill says. "Your mental health and physical health are closely linked, and it's wise to not ignore either."
The guidance released this week was a draft that could be finalized in the coming months. In the short term, routine anxiety screenings for adults up to age 65 might not always be available and covered by insurance.
Still, if you've been struggling with feeling anxious, nervous or uneasy, you should talk to your primary care doctor to get started. Strategies for treatment or coping will depend on your specific situation, but you can't know what to do until you ask.
The CDC recommends some strategies you can try on your own:
Take five minutes to yourself to take a deep breath.
Use your body – this includes taking a walk, stretching or exercising.
Reach out to a friend, family member or coworker to catch up.
Seek help from people or groups such as community organizations, faith groups or food banks.
Take a break from news and social media, which often can be stressful.
"The COVID pandemic has particularly increased many people's sense of isolation, and connecting with others is more crucial now than ever," Dr. Brill says.
Anxiety can have many causes, and it can show itself differently in everyone. That includes panic attacks, which can resemble urgent physical problems like a heart attack. Here's how the National Institute of Mental Health describes the symptoms:
Heart palpitations, a pounding heartbeat or an accelerated heartrate
Sweating
Trembling or shaking
Sensations of shortness of breath, smothering or choking
Feelings of impending doom
Feelings of being out of control
Anxiety screenings typically include a series of questions about how you're feeling, and providers can make a decision about your care based on your answers.
Are you trying to find a doctor? Look here if you live in Illinois. Look here if you live in Wisconsin. 
Related Posts
Comments
About the Author
Mike Riopell, health enews contributor, is a media relations coordinator with Advocate Health Care and Aurora Health Care. He previously worked as a reporter and editor covering politics and government for the Chicago Tribune, Daily Herald and Bloomington Pantagraph, among others. He enjoys bicycles, home repair, flannel shirts and being outside.