Training to save the brain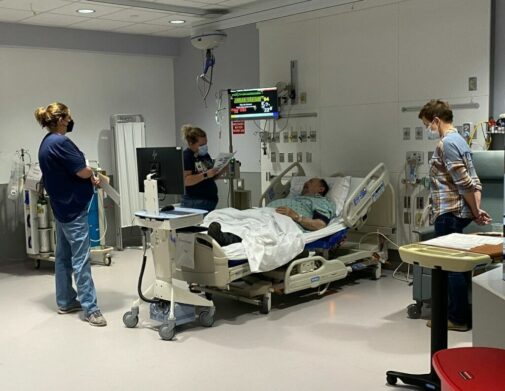 When it comes to stroke, time is brain. But to respond quickly, people and care teams need to know the signs and symptoms of a stroke, sometimes referred to as a "brain attack." Much like a heart attack, a stroke interrupts the flow of blood to the brain, and if not recognized and treated quickly, it can cause significant brain damage.
"Strokes can happen to anyone and 80% of strokes are preventable," says Sandra Parker, stroke coordinator at Advocate Sherman Hospital. "It's important to know your risk factors and make lifestyle changes to help prevent stroke."
Responding quickly and effectively takes regular training. The care team at Advocate Sherman uses stroke simulation drills to practice their skills, work through process improvement ideas and learn about the latest stroke drug protocols so that they can offer patients leading-edge care.
Luckily, they have a stroke survivor – instead of a training mannequin – who volunteers to help create a more realistic patient scenario for the team to respond to during the drill.
"It's helpful for the nurses to practice training with someone who was a patient," Parker explains. "It makes it more real."
Charlie Pitt, a patient at Advocate Sherman, is a survivor of a hemorrhagic stroke. Through tears he explains why he volunteers, "Twenty years ago, a properly trained emergency team saved my life, I could never repay that back. What I can do is help with stroke simulation training."
Pitt currently assists with simulation training for Tenecteplase, a newer "clot-busting" drug to treat stroke. The drug helps treat acute ischemic stroke, which happens when blood flow through an artery in the brain is blocked by a clot. He's also actively involved in the stroke support group to help other survivors adjust to their life after stroke.
While Pitt was in the hospital recovering from his stroke, a series of words came to him that inspired his approach to tackle his life-altering stroke. He often shares these words with fellow survivors to help them along their journey:
Faith – You need to have faith in something.
Family – You have to have a support system like family or friends.
Facilities – You need to have facilities including hospitals and therapy centers for care.
Fight – You need to fight. No one can do your therapy for you; you have to take the challenge.
Fun – You have to have fun along the way.
Forward – You need to focus forward. You can learn from the past, but you can't change it.
Read about the symptoms of stroke and take a quick, free online assessment to know your stroke risk.
Related Posts
Comments
About the Author
Elizabeth Blasko is a public affairs coordinator with Advocate Health Care and Aurora Health Care. She studied public relations and nonprofit leadership at Western Michigan University. Elizabeth previously worked at Bernie's Book Bank, a nonprofit dedicated to increasing book ownership among underserved children.