5 quick tips to limit your salt intake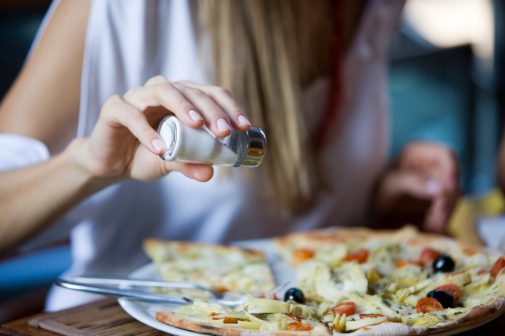 Popcorn, pretzels and french fries. Is your mouth watering yet? While we crave these salty snacks from time to time, too much salt can increase blood pressure, stress the heart and lead to heart disease.
90 percent of American adults and children exceed daily recommendations for sodium, according to the Centers for Disease Control and Prevention. The American Heart Association recommends we consume no more than 1,500 milligrams of salt daily.
"Eating too much salt on a regular basis can increase your chances of suffering from a heart attack or stroke," says cardiologist Dr. Thomas Discher, an Advocate Medical Group physician at Advocate Good Samaritan Hospital in Downers Grove, Ill. "Eating a clean diet and reducing salt to no more than one teaspoon a day can increase your overall health."
Since sodium is hidden in vegetables, dairy products and pre-packaged foods, we can consume way more than we realize. And the amount of sodium skyrockets at restaurants, as a typical order of Chinese beef and broccoli has 3,300 milligrams of sodium and a plate of chicken parmigiana includes 2,900 milligrams of sodium.
In order to take control of your sodium intake, Dr. Discher suggests the following tips:
Eat fresh fruit, vegetables, lean meat, skinless poultry and tuna in canned water.
Avoid prepackaged, processed and prepared foods.
Read labels and choose foods that contain less than 140 milligrams of sodium per serving.
Limit the "Salty 6" such as bread, pizza, soup, poultry, sandwiches, cold cuts and cured meat.
When cooking, use herbs to add flavor and rinse canned vegetables, beans and shellfish.
Want to learn more about your risk for heart disease? Take a free online quiz to learn more. 
Related Posts
Comments
About the Author
Johnna Kelly, healthe news contributor, is a manager of public affairs and marketing at Advocate Christ Medical Center in Oak Lawn. She is a former newspaper reporter and spent nearly 10 years as a public relations professional working for state and county government. During her time as a communications staffer for the Illinois General Assembly, she was integral in drafting and passing legislation creating Andrea's Law, the nation's first murderer registry. In her spare time, she volunteers at a local homeless shelter, enjoys traveling, photography and watching the Chicago Bulls.