Is your phone making you sneeze?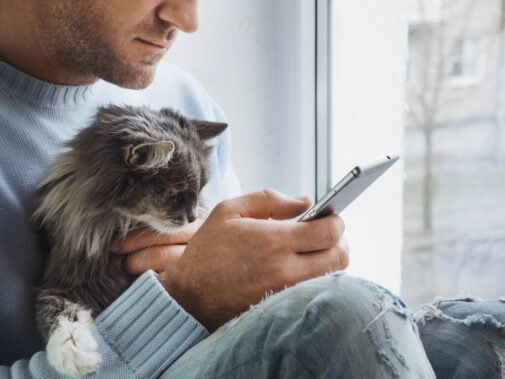 With our smartphones always within arm's reach, it's no surprise that they have more germs than toilet seats. But did you know that they also carry around common household allergens?
A small study found that smartphones carried high amounts of pet dander, β-D glucans (BDG) and endotoxins – all of which can trigger allergies and cause asthma flare-ups.
Aside from cat and dog dander, dust mites and mold are the other top allergens, according to Dr. Abhilash Vaishnav, allergy & immunology and internal medicine physician at Aurora Allergy in De Pere, Wis.
However, smartphones are not the only common household items that will trigger your allergies.
"One of the most common areas in your house with many allergens is your bedding such as your pillow, mattress and box spring." He says that upholstered furniture and your carpet also contain a significant source of allergens.
The good news is that there are steps you can take to actively reduce the number of allergens you are exposed to daily. In fact, the study found that simply wiping down your smartphone with an isopropyl alcohol wipe can help reduce the number of allergens it carries.
Similar to cleaning your smartphone, Dr. Vaishnav says it's also a good idea to clean your pillow per the manufacturer's instructions. For other items, you may want to take preventive steps.
"Since you obviously can't wash your mattress or box spring, you can encase them with an allergy-proof cover," advises Dr. Vaishnav.
And while hardwood floors are the more allergy-friendly option, Dr. Vasihnav says those who have carpet can benefit from a HEPA vacuum cleaner and a HEPA air filter in their furnace. HEPA vacuums and filters remove over 99% of allergy particles, therefore minimizing your exposure.
If you are still struggling with allergies or asthma, Dr. Vaishnav recommends getting to the bottom of what is causing the flare-ups.
"We do skin testing generally but we can also do blood tests to look for allergies to dust mites, cat and dog dander, mold, and different types of pollen such as trees, grass and weeds. Of course, there is also testing for food and insect allergies too," says Dr. Vaishnav.
Do you need help getting your allergies under control? Find an allergist in Illinois or Wisconsin.
Related Posts
Comments
About the Author
Anna Kohler, health enews contributor, is a public affairs specialist for Advocate Aurora Health. She received her bachelor of science in public relations from Illinois State University and has worked in healthcare public relations for over three years. In her free time, she enjoys working out, exploring new places with her friends and family and keeping up with the latest trends.