What is lymphedema?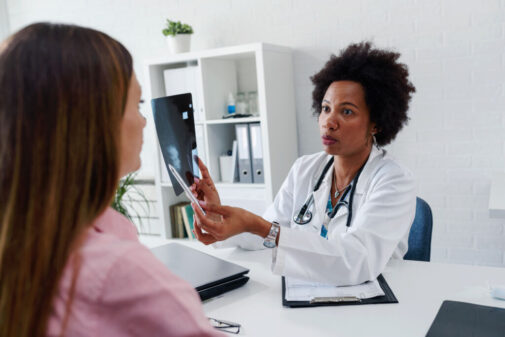 Many people are aware of the common physical side effects that breast cancer patients experience when they go through treatment like hair loss, fatigue and the potential of a mastectomy, among other issues.
But there is one that is less talked about and very common symptom – lymphedema; fortunately, it can be prevented.
Lymphedema is a swelling caused by a blockage in the lymphatic system.
An important part of the breast cancer diagnosing process is to "stage" the cancer. This is when a physician identifies the extent of cancer within the body to determine the best course of treatment. One of the pieces of information a physician needs to determine the stage is to determine if the cancer is in the lymph nodes, or glands, underneath the arm.
Staging for breast cancer is typically done by removing a few lymph nodes, called a sentinel lymph node biopsy, or by performing a dissection to check many lymph nodes at once, called an axillary lymph node dissection. A common complication associated with these procedures is lymphedema. This condition can be managed but it is considered uncurable.
"This major side effect from breast cancer surgery could be prevented with a simple and innovative technique called axillary reverse mapping," says Dr. Ameer Gomberawalla, a breast cancer surgeon at Advocate Christ Medical Center in Oak Lawn, Ill. "This technique is when blue dye is injected into the upper arm and essentially lights up the lymphatic channels and lymph nodes that drain fluid from the arms. When surgeons are able to easily identify these structures, they can avoid compromising them during the staging surgery."
Using this approach can make a drastic difference in the likelihood of someone developing lymphedema and is one less thing for breast cancer patients to have to worry about.
"As a breast surgeon, my mission is to reduce the collateral damage of breast cancer treatment," says Dr. Gomberawalla. "Patients already go through enough fighting this disease, so we should try to do everything we can to help them get back to their lives as seamlessly as possible."
If you have already been diagnosed with lymphedema, Dr. Gomberawalla recommends contacting your physician about tips to help alleviate discomfort like exercise and compression devices.
Want to learn more about your risk for breast cancer? Take a free online quiz here. 
Related Posts
Comments
About the Author
health enews staff is a group of experienced writers from our Advocate Health Care and Aurora Health Care sites, which also includes freelance or intern writers.