Spring clean your way to a clearer mind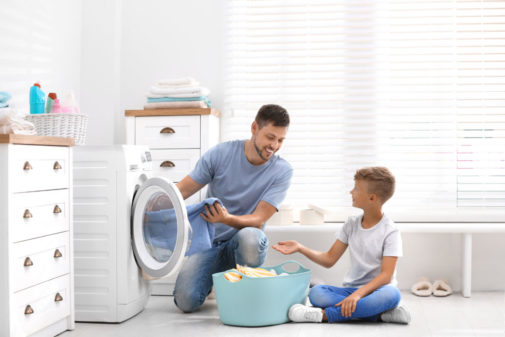 Spring is here! With that comes longer days, flowers in bloom and an urge to spring clean. Dusting, vacuuming and organizing can make your home feel fresh and new. By eliminating the clutter, you can improve your mental health, too.
"Clutter can hurt our ability to get things done. If there is not enough room on the kitchen counter to prepare a meal or we can't find a needed document, we feel overwhelmed and disorganized," says Sarah Young, licensed clinical social worker and clinical therapist, behavioral health services at Advocate Illinois Masonic Medical Center, in Chicago. "When excessive, clutter can result in distress and dysfunction."
If you're a Marie Kondo fan and familiar with her organizational tips, de-cluttering can 'spark joy,' as well as many other positive emotions like a sense of accomplishment, calm or comfort, she says.
Other mental and physical health benefits of decluttering include better cognitive processing and healthier decisions around the house, Young says. Some people are even using de-cluttering to help manage their anxiety and depression because they find they can approach challenging tasks more easily when their desks, homes or workspaces are tidy, she says.
"Adolescents report feeling more confident about academics after cleaning their rooms. De-cluttering can also be part of processing life transitions and losses, as people decide which items to keep in the next chapter of their lives," says Young.
Mental health and clutter have an interconnected relationship, so it's important to set practical goals. It's important to be mindful if you have rigid expectations for the cleanliness or tidiness of your home or if you use de-cluttering as a form of avoidance when there's something else more important to do, she says.
"Anxiety and depression can make decision-making challenging and overwhelming," she says. "When struggling with doing basic tasks, cleaning up can seem too difficult. Unrealistic expectations can also contribute to more clutter if tidying up is neglected because it cannot be done perfectly."
If you're feeling ready to grab the duster, start gradually for best results and to make it feel manageable, says Young. Here are other cleaning tips she shared:
Make a list of de-cluttering tasks and check them off as they are completed.
Take "before and after" photos to see the progress.
Take de-cluttering in pieces, rather than all at once.
Start with the easy stuff and the areas where de-cluttering makes the biggest difference.
Settle for a system that works. It does not need to be perfect.
Happy cleaning!
Are you trying to find a doctor? Look here if you live in Illinois. Look here if you live in Wisconsin. 
Related Posts
Comments
About the Author
Anna Schapiro is a public affairs coordinator at Advocate Health Care and Aurora Health Care. She has a background in public relations and communications and studied journalism at Northwestern University. When she's not working on internal communications for the organization, she enjoys cooking, reading and living in Chicago.