Preparing your body for spring sports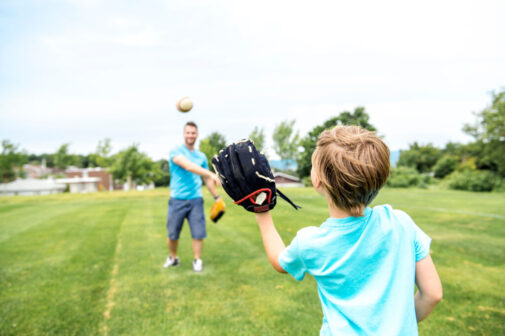 Warmer weather often results in more time spent outdoors. Along with that brings spring sports. Dr. Kristina Walick, a pediatric orthopedic surgeon with Advocate Children's Hospital, says injuries from spring sports are common, especially in kids whose bodies are still growing.
"Something we tend to see a lot of when we go from the winter months where kids are more sedentary to spring sports season are what I call overuse and underuse injuries. This is typically because they went from zero to one hundred percent, going full force a little too quickly," says Dr. Walick.
Whether your child is trying out tee ball for the first time or is a seasoned high school athlete, Dr. Walick says proper training and preparation are important. She recommends a 10% increase in activity each week, gradually increasing the amount of activity your child is doing over the course of several weeks.
Some activities to start with include going to the park, walking or jogging, swinging a bat, kicking a ball – anything that requires movement. If the child is older and preparing for a specific sport, incorporate movements they will use regularly when they play. This is a good way for their body to adjust to the physical demands. Dr. Walick typically recommends about six weeks of this.
In addition to proper training, it is important to pay close attention to any pain your child may experience throughout the season and be mindful of their complaints.
"Bumps and bruises are going to happen in sports, but if you notice limping or swelling and it lasts for more than a day or two, it's time to get that looked at. Swelling around a joint that doesn't go away could indicate something is damaged inside," Dr. Walick says.
She adds that if an acute injury occurs, where a painful pop is heard or felt, to have that evaluated by a medical professional as it could indicate a more serious injury.
If your child does sustain a sports-related injury this spring, adhere to the guidance of their medical provider even if the injury doesn't seem serious. All injuries take a toll on the body so a gradual return to playing the sport is important.
While proper training and injury recovery are crucial, so is nutrition – especially when it comes to active kids. Make sure your kid is eating properly and getting all the right nutrients both before and after their practices and games.
"Most importantly, sports should be fun," says Dr. Walick. "If injury does occur this spring, address anything that hurts with ice and stretching – and remember that scheduling rest time is just as important as playing the game."
If your child is playing a sport this spring, talk to their pediatrician about creating a training and nutrition plan. If they do happen to sustain an injury, make an appointment with their doctor or go to the nearest urgent care center. Click here if you live in Illinois or click here if you live in Wisconsin to find one near you.
Related Posts
Comments
About the Author
Lee Batsakis, health enews contributor, is a public affairs coordinator with Advocate Children's Hospital. She graduated from Western Michigan University with a degree in public relations and has worked in health care since 2013. Outside of work, she enjoys reading, exercising, and spending time with her fiancé and two dogs.