Have you been a victim of violence at work?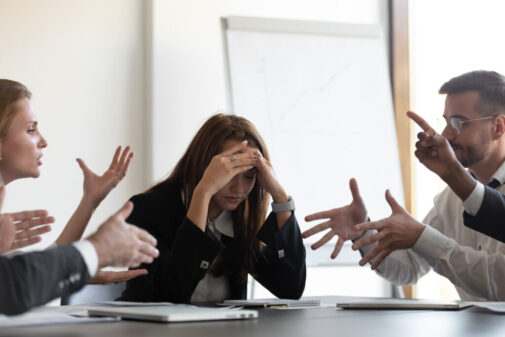 Lateral violence can be non-physical or physical, aggressive, hostile, bullying and/or harmful behavior between coworkers. While these acts can appear somewhat harmless, they often create a toxic environment that takes a toll and can hinder employee confidence and work performance.
According to the Occupational Safety and Health Administration (OSHA), each year an average of 2 million U.S. workers report having been a victim of violence at work which includes acts of lateral or peer-to-peer violence.
Stephanie Holschbach, psychiatry nurse practitioner at Aurora Behavioral Health Center in Sheboygan, Wis., says, "Lateral violence can disrupt the tone and morale of a working environment as well as jeopardize safety. Employees may work with a fear of angering a peer, 'walk on eggshells' around a peer and/or avoid communicating with a peer altogether. Employees may be reluctant to ask questions, for fear of retaliation, which could result in a negative outcome."
Lateral violence can be something as subtle as excluding coworkers, gossiping, purposefully having a conversation in front of a coworker knowing that it could trigger them or as aggressive as actual physical violence. Though lateral violence is peer-to-peer, it can involve a 'power gradient' where one coworker is in a position of perceived power, such as in the case of seniority. This type of workplace violence could lead to misuse of power by the aggressor.
Excessive absenteeism or lateness, increased mistakes or errors, and unsatisfactory work quality are warning signs to watch for in victims.
Warning signs to look for in an aggressor are:
Crying, sulking or temper tantrums
Pushing the limits of acceptable conduct or disregarding the health and safety of others
Disrespecting authority
Refusing to acknowledge job performance problems
Even more subtle behaviors such as scheduling excessive workloads or not approving vacations for certain employees can be interpreted as violence. According to The Journal for Nurse Practitioners, prevention is the most important step in addressing workplace violence, which includes leadership focused on authentic relationships and training on conflict resolution. As they further explain, other techniques can prevent it from escalating. These include steady eye contact with the aggressor, a calm attitude and understanding the aggressor's point of view without condoning it.
Holschbach concludes, "When communication among employees is poor or hostile, opportunity for error poses a higher risk to all. Ultimately, everyone falls victim when lateral violence is present in a workplace."
Find behavioral health services and resources in Illinois or Wisconsin.
Related Posts
Comments
About the Author
Amy Werdin, health enews contributor, is a provider public affairs coordinator with Advocate Health Care and Aurora Health Care. She has been with the organization for 19 years, starting out in marketing for Advanced Healthcare, then Aurora Health Care and now in her current role. She enjoys reading, movies and watching her two daughters dance and her son swim.