Nursing is in this mother-and-son nursing duo's blood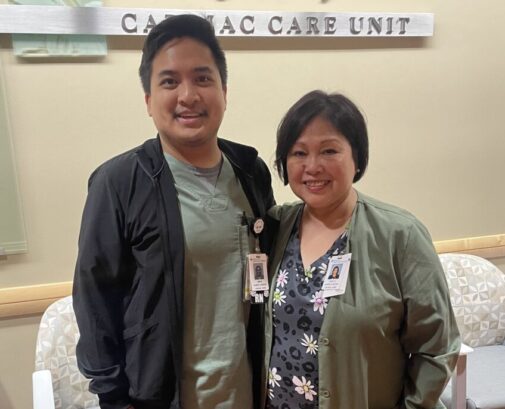 For Ian and Leah Dela Merced, nursing is a family affair.
"When I started high school in the United States as a junior, they asked me what career path I was interested in pursuing," reflects Leah, who left the Philippines at 16 years old to live in the U.S. "I looked up to my mom who was a nurse, and I had an aptitude for health and science, so I decided to pursue nursing."
Leah studied hard, earned her degree, and ultimately found her passion in caring for patients in intensive care. She joined Advocate Sherman Hospital in Elgin, Ill. as a critical care and rapid response nurse in 2014.
A mom of three, Leah was proud when her youngest son, Ian, made the decision to pursue a nursing degree.
"I knew I wanted to do something in the medical profession," Ian remembers. "What really drew me is the opportunity to help others."
After graduating in 2020, Ian's job search led him to a familiar place – Advocate Sherman – and he now works in the cardiac care unit, just down the hall from where his mother is stationed in the ICU.
"In the ICU you see patients at their most vulnerable time," shares Leah. "It's very rewarding to see patients discharged and return to living life as their full selves."
Likewise, Ian recalls when a former patient recognized him at a restaurant and thanked him by name for the exceptional care he received, "That moment was very special to me. Even in that short period of time I had with this patient I was able to make a meaningful impact on his life. I know nursing is where I've found my calling."
Ian says he's proud to be a third-generation nurse and Leah can't help but smile as her son expresses his passion for their shared profession.
"It's an honor to have another nurse in the family," shares Leah. "I've really seen him grow in his career here and I'm so proud of him."
Related Posts
Comments
About the Author
Elizabeth Blasko is a public affairs coordinator with Advocate Health Care and Aurora Health Care. She studied public relations and nonprofit leadership at Western Michigan University. Elizabeth previously worked at Bernie's Book Bank, a nonprofit dedicated to increasing book ownership among underserved children.