Patient care manager keeps patients smiling through difficult times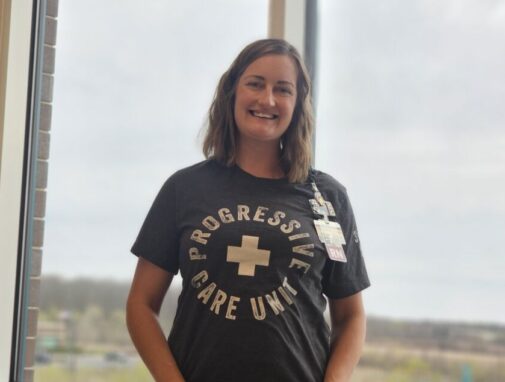 Kristin Hromada has practiced the act of stepping into others' shoes for more than a decade. As a patient care manager at Aurora Medical Center – Grafton, Hromada works to create better experiences for every patient who sets foot in the progressive care unit.
"My teammates and I take a community approach to patient care," explains Hromada. "We listen to, support and advocate for our patients as if they were a family member or friend of our own."
For Hromada, family is the reason she studied cardiac care and anatomy in school, and later pursued a career in nursing. When she was 9 years old, her father suddenly passed away after experiencing sudden cardiac death.
Hromada has many fond memories of her dad, who was a school music teacher and organist. She says he enjoyed dressing up on Halloween to make his students smile. Old pictures show him wearing a clown costume and making funny faces – two memories that come to Hromada's mind when she's working with patients.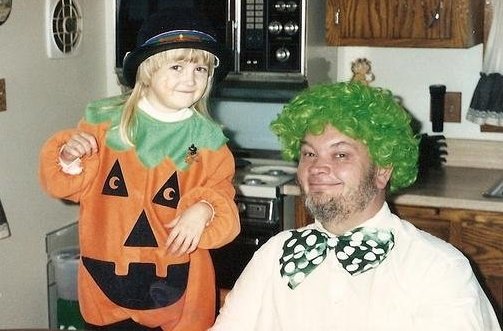 "We try to have fun on the holidays. Around Christmas time we wear reindeer ears to provide some comedic entertainment and bring smiles to our patients' faces," says Hromada. "We can stress about things all day, but I'd rather try to remember to approach life with lightheartedness and laughter."
Although there are plenty of tender moments in the unit, there are tough times, too. After giving birth to her first child, Hromada returned from maternity leave just two weeks before the pandemic hit. She was tasked with transforming her unit into a COVID ICU in three days.
"I have a very different view looking back on that time than when it was occurring. Initially, there was mass panic. Everything was changing rapidly. We had to step up and learn new, creative ways to care for our patients," explains Hromada.
Her team worked to reduce pressure from other hospital units by caring for high-acuity patients, or those who require frequent surveillance or monitoring. Teammates learned how to prone or supinate patients to improve oxygenation, and closely monitored patients receiving high-flow oxygen therapy.
There were also many long, challenging days where Hromada reminded her teammates to take a moment to put themselves into their patients' shoes and think about ways to show kindness.
"It's the little things that added up. Whether it was holding a patient's hand, or maybe there was a treat we could run and grab for them. We strived to take the extra step and think about what would make a patient's day," says Hromada.
Because of the pandemic safety protocols, extra steps included calling patients' family members and friends on Facetime when a patient's health took a sudden turn. It also included making end-of-life visiting arrangements.
"Our patients were not going to die alone," says Hromada. "Our nurses are real heroes. It was amazing to watch them come together and rally around our patients."
Hromada's COVID ICU has since transitioned back to a progressive care unit. She can now reflect on that difficult time and feel a sense of pride.
"I'm proud to have led a group through the different barriers that came up. The best part of the job is hearing comments from thankful patients and family members," says Hromada.
Related Posts
Comments
About the Author
Danielle Stobb, health enews contributor, is a public affairs coordinator in Greater Milwaukee, Wis.