What is habit stacking?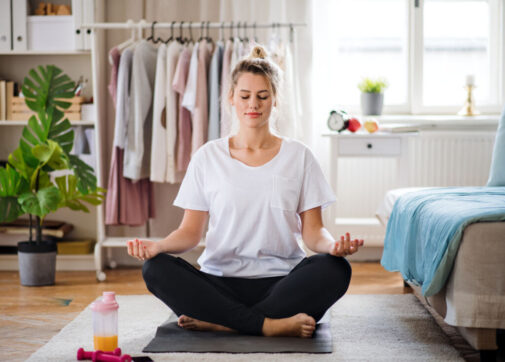 You've likely been there, done that.
You've set your goal, like eating healthier or exercising more. You go all in with gusto, determined to eat five fruits and vegetables or get in 10,000 steps daily. And you do – for a few days – and then it all falls apart and you're back to your old habits of junk food and couch potato.
Science proves what many of us already know. A research paper on habits and routines reports that studies consistently show too much change too fast likely won't produce the desired outcome.
But your existing habits can work to your advantage and help you achieve long-term success of your goal.
"A very easy strategy you can use is habit stacking, where you add a new tiny-step goal to an existing string of daily habits," says Pamela Voelkers, dietitian and integrative health coach at Aurora Health Center in Milwaukee, Wis. "Smaller goals, easily achievable in a shorter time, can be more effective at creating and sustaining longer-term change."
Essentially, habit stacking is as easy as taking a habit you already do every day and pair it with a simple one you want to do every day. We all have certain daily habits we likely take for granted. Without much thought, you may take a shower each morning, brush your teeth, make coffee – or thousands of other daily habits. In habit stacking, you build on these existing routine habits to make new ones.
For example, in the morning while brushing your teeth, walk around the house or go up and down stairs to add to your daily step count. While waiting for the coffee to brew, take that time and eat a piece of fresh fruit. Or at bedtime before pulling back your bed covers, add five minutes of yoga stretches.
"When we string tasks together, each existing habit reminds and motivates us to complete the next," Voelkers says. "Thinking of a habit stack like a single action instead of a series of separate tasks can help you stick with it."
Achieving tiny-step goals can make you feel good, Voelkers adds, leaving you more motivated and empowered to keep reaching for small realistic milestones and move closer to your ultimate goal.
Are you trying to start new habits that may help with weight loss or management? Take a free online quiz to learn more about your healthy weight range here. 
Related Posts
Comments
About the Author
Mary Arens, health enews contributor, is a senior content specialist at Advocate Health Care and Aurora Health Care. She has 20+ years of experience in communications plus a degree in microbiology. Outside of work, Mary makes healthy happen with hiking, yoga, gardening and walks with her dog, Chester.