Have you added this to your nighttime routine?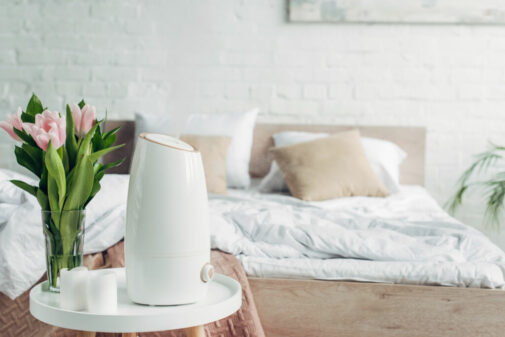 According to the CDC, 70 million Americans suffer from chronic sleep problems. If you're having trouble getting to sleep or staying asleep, you're not alone. While you may need to talk to your doctor about underlying issues, there are steps you can take to help.
One simple way to support your sleep health can be by adding aromatherapy to your nighttime routine by using essential oils like lavender.
"A lot of scents have an association in the brain with calm," says Dr. Sarah Pierce, family medicine physician who is board-certified in Integrative Medicine. "The aroma helps the brain relax."
Scents like lavender, bergamot, geranium, roman chamomile, sandalwood, sweet marjoram or mandarin can help you relax. You may even feel tired just from the aroma. Be aware of what scent you pick, however, as some scents that are relaxing are also energizing, which isn't helpful to use right before you head to bed. Lavandula angustifolia is the species of lavender most known for its relaxing properties — other forms of lavender may be stimulating.
Try a few different ways to include essential oils in your bedtime routine. You can diffuse a scent in the room or even use lotions infused with that essential oil as well. If you take a bath or shower before bed, consider adding a few drops on the wall where steam will help release the aroma or mixing it with Epsom salt before mixing in the water to get the same benefits. If you want to add the scent to your bed itself, wash your sheets with a drop or two of the oil by adding oil to your laundry detergent and mixing to avoid staining your sheets. You can also place a few drops on a tissue and slip between your pillow and pillowcase.
"We sometimes underestimate what non-medication items can do for us. Most things are best in combination or as part of a routine," says Dr. Pierce.
Making aromatherapy a part of your wind-down routine can be another trigger for your brain that it's time to relax. Being more relaxed often helps you fall asleep.
When using essential oils, there are a few things you should keep in mind. Putting oils directly on your skin can sometimes cause an allergic reaction. Some essential oils are not safe for direct application, though true lavender, lavandula angustifolia, is considered safe for skin. Even with essential oils like lavender, test it first and be sure to only use a small amount. In general, less is better. If you're pregnant or using around young children, talk to your doctor before using aromatherapy.
Do you have trouble sleeping? Learn more about sleep apnea by taking a free online quiz. 
Related Posts
Comments
About the Author
Ben Hoekstra is a public affairs coordinator with Advocate Health Care and Aurora Health Care. He previously worked in marketing and PR for various Milwaukee nonprofits and received his master's degree in Corporate Communications from Marquette University. He enjoys the outdoors, cooking, and all things Milwaukee.