Do you have 30 minutes to spare? You could save a life.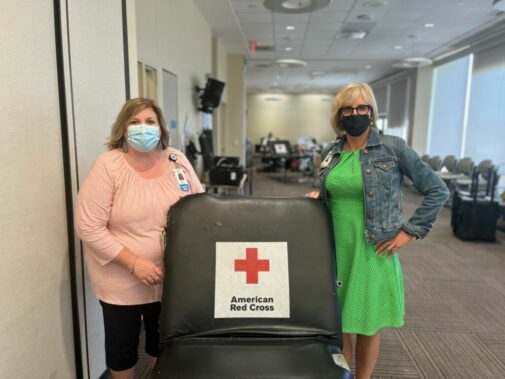 According to the American Red Cross, every two seconds someone in the United States needs blood, whether it's because of traumatic injury, surgery, disease or a blood disorder. Despite this urgent need, only three percent of age-eligible people donate blood yearly, and a national blood shortage is putting lives at risk.
For Becky Norman, patient safety manager at Advocate Sherman Hospital in Elgin, Ill., blood donation is personal.
"I have two siblings that were both born with significant heart malformations; one of them had five open-heart surgeries and the other had one," Norman shared. "Every time they had open-heart surgery, they needed blood transfusions. It was lifesaving and allowed them to heal more quickly from their procedures."
Even before her siblings needed blood transfusions, Norman was no stranger to the importance of blood donation.
"My dad is O negative blood type, and he would regularly give blood," Norman notes. "I think he gave 15 gallons in his lifetime because he would go as often as possible. The example he set made giving blood seem normal."
Whether you've donated before or are considering a donation for the first time, you may be understandably nervous and unsure about the process. Despite working in health care for many years, Joan Kanute, director of hospital programs at Advocate Sherman Hospital in Elgin, Ill., gave blood for the first time last year.
"I had never donated blood until last spring. I'm ashamed to say I hadn't," Kanute admits. "It benefits so many people and it directly benefited my family members."
Despite the nerves, when Kanute walked away from her first appointment, she vowed to be a regular blood donor moving forward. She already donated for the second time at a recent blood drive.
"I'm so glad I finally donated blood; it was such a good experience," Kanute reflects. "The process was painless and quick; I just had to get over the mental block I had about it."
Giving blood may seem like a small contribution, but it has a tremendous lifesaving impact. A single donation typically takes about thirty minutes and can help save more than one life.
"If every person who is eligible to give blood donated just once a year, there would never be a shortage," Norman shares. "Every donation makes an impact and creates a ripple effect."
If you're interested in giving blood, it's important to make sure you're eligible before making an appointment. To give blood you should be in overall good health, at least 16 years old and weigh 110 pounds. Additionally, you must have not donated blood in the last eight weeks.
Learn more about donating blood and make an appointment: Illinois | Wisconsin
Related Posts
Comments
About the Author
Elizabeth Blasko is a public affairs coordinator with Advocate Health Care and Aurora Health Care. She studied public relations and nonprofit leadership at Western Michigan University. Elizabeth previously worked at Bernie's Book Bank, a nonprofit dedicated to increasing book ownership among underserved children.