Are you taking too much melatonin?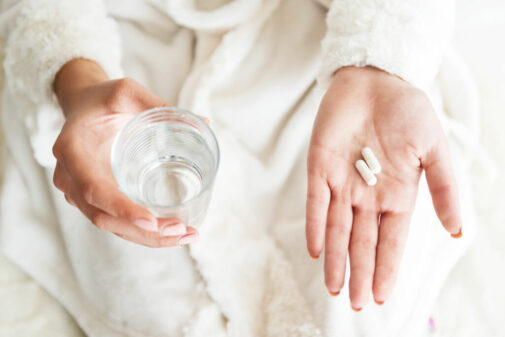 Taking an over-the-counter supplement to help you or your child sleep might seem like a dream solution to your nighttime woes, but it could have dangerous consequences for your little ones.
The number of pediatric melatonin ingestions reported to poison control centers rose 530% in the past decade, with the largest spike happening during the pandemic, according to a study from the CDC.
The study's authors say unintentional ingestions were the leading cause of poisonings. Children were home more, and adults and children alike suffered from sleep disturbances during the pandemic. These two factors led to an increase in accessibility and availability of melatonin in the home.
While many have turned to melatonin to address sleep troubles – sales increased from $285 million in 2016 to $821 million in 2020, the study showed – parents should think twice before leaving it outside the medicine cabinet or giving it to their children.
"The way it's marketed is as a natural risk-free supplement, but it's not," says Dr. Innessa Donskoy, a pediatric sleep specialist at Advocate Children's Hospital. "It's a hormone that acts as our body's signal that it's time to get ready for bed. And children are ingesting it at levels way above what their bodies need or naturally make."
The symptoms of a melatonin overdose can be hard to immediately identify because they are similar to the affects parents are aiming for when giving their child melatonin. They include a child being extremely sleepy and, in some cases, sleepy to the point that they don't wake up when disturbed.
"It's difficult to discern because you're giving this to your child at night for them to go to sleep and so how are you going to know if they are too sleepy on it? There are no official weight-based dosing guidelines for melatonin," Donskoy says. "If your child accidentally or intentionally takes melatonin and they're sleepy to the point that you're not able to wake them up when you're trying to, that's an emergency."
Parents whose children are having trouble sleeping should talk to their children's pediatrician first, Donskoy says. Depending on the issue, your pediatrician also might recommend a pediatric sleep doctor. Your doctor will ask about when and how your child is having trouble sleeping. Are they having trouble falling asleep? Falling asleep fine, but waking up through the night?
"Once you paint this roadmap of what a night looks like for your child, you'll understand what the issue is for your child," Dr. Donskoy says. "When you start being specific about what the issue is, we know when to intervene and what the intervention should be."
Do you have trouble sleeping? Learn more about sleep apnea by taking a free online quiz. 
Related Posts
Comments
About the Author
Katie Dahlstrom, health enews contributor, is a public affairs coordinator with Advocate Health Care and Aurora Health Care. A storyteller at her core, she is a former newspaper reporter and spent nearly five years working as a public relations professional for Chicago's commuter rail agency, Metra. Outside of work, she enjoys birding, photography and spending time with her husband and dog.