What exactly are we inhaling from these wildfires?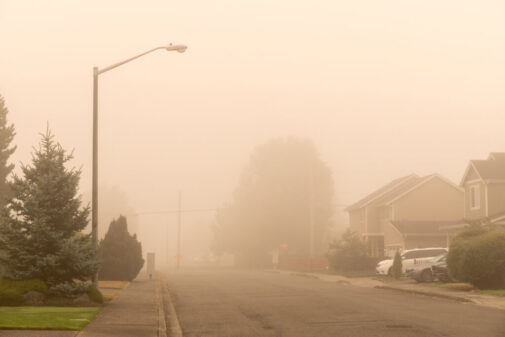 Photographs of an orange haze blanketing the boroughs of New York City went viral earlier this summer. Now, similar images are being captured closer to home as Canadian wildfire smoke is rolling through the Midwest and covering up Milwaukee's sports stadiums and Chicago's tallest skyscraper.
Illinois and Wisconsin's air quality indexes (AQI) were among the worst in the world this week. The AQI map shows the states painted in purple, meaning the air quality is at a "very unhealthy" level for children, adults and people with respiratory disease.
The message during this time is simple.
"The best thing to do is stay indoors," explains Dr. Mary Jo Rolfes-Lo, an allergist in Oak Creek, Wis. "If you need to go outdoors, then wear a mask that filters fine and ultrafine particles."
Ultrafine particulate matter produced by burning plants is about 0.1 micrometers in diameter and fine particulate matter is roughly 2.5 micrometers in diameter. For perspective, a strand of human hair is 70 micrometers in diameter – more than 30 times larger than fine particulate matter.
"The smaller the particle size, the more likely it is going to enter the lungs and bloodstream," says Dr. Rolfes-Lo.
According to the American Heart Association, wildfire smoke exposure can cause itchy eyes, a scratchy throat and a cough. Depending on the severity, the exposure may also lead to more serious symptoms, like chest pain and headaches. Dr. Rolfes-Lo says these symptoms are common in the short-term.
Most healthy adults and children will recover quickly from wildfire smoke exposure and will not experience long-term health consequences, according to the United States Environmental Protection Agency. However, certain at-risk populations may be at greater risk of experiencing chronic symptoms.
Those populations include:
People with asthma and other respiratory diseases
People with cardiovascular disease
Children
Pregnant women
Adults older than 65 years old
Outdoor workers
In addition, the EPA says those with less access to air conditioning may experience greater exposure to wildfire smoke, as air conditioning can help filter particle pollution. If you do not have air conditioning, consider visiting shelters, air-conditioned stores or malls.
As Dr. Rolfes-Lo mentions, the best way to protect yourself from the wildfire smoke is by staying indoors. If you must travel, drive with the windows rolled up and operate the vehicle's air conditioning in the "recirculate" mode. When outdoors, limit physical activity and wear a fitted N-95 mask.
"If you experience any chest or neurological symptoms, seek help from your provider as soon as possible," says Dr. Rolfes-Lo.
Are you trying to find an allergist? Look here if you live in Illinois. Look here if you live in Wisconsin. 
Related Posts
Comments
About the Author
Danielle Mandella, health enews contributor, is a public affairs coordinator in Greater Milwaukee, Wis.