Sports physicals and annual physicals: What's the difference?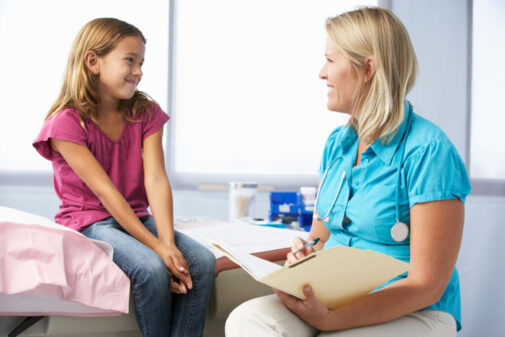 Checkups. Wellness visits. Sports physicals. Annual physicals. You've likely heard all of these terms but may not know the differences between them – or if there even is one. Dr. Sharon Busey, a pediatrician with Aurora Children's Health in Milwaukee, Wis., shares what you should know.
Annual physical, checkup, wellness visit, well-child check
Recommended annually for children ages 3 and older.
An opportunity for pediatricians to review and educate families about important health and safety topics, counsel on healthy habits around eating, sleeping, and physical activity, and identify any potential concerns.
May involve immunizations depending on your child's age and where they are in their immunization schedule.
Can be completed at any time of year. Many families choose to bring their children in for checkups in late summer before school starts, which can cause the month of August to be overwhelmingly busy in many pediatric offices.
Sports physical
Required by your child's school to verify that it is medically safe for them to participate in a certain sport. The school will often send you paperwork for the pediatrician's office to complete.
A greater focus is placed on determining if your child is experiencing any health problems, such as asthma, that may potentially put them at risk while participating in a sport.
If your child is not cleared to play a sport at the time of the appointment, their pediatrician may order additional testing or treatment for a medical problem.
Sports physical should be scheduled well enough in advance of your child's sport beginning in case additional testing or appointments are needed.
"Sports physicals can be incorporated into an annual physical, but it's important to let your child's pediatrician know that your child will need sports clearance at the beginning of a visit so that certain questions and a specific musculoskeletal exam are included in the encounter," she explains. "If the sport your child intends to play requires some sort of specific documentation or sports card, it can be completed based on a visit done in the last 12 months."
Dr. Busey reminds parents that they should contact their child's pediatrician no matter the time of year if they have concerns – even if their child already has an appointment scheduled.
"Don't hesitate to bring your child to their pediatrician throughout the year for longstanding concerns," she says. "Oftentimes, families 'save' their concerns about chronic headaches, emotional issues, severe constipation, and more for the annual visit, but issues like these warrant a lot of time and discussion. This can subsequently cut into the intended purpose of the annual visit. The doctor will be better able to fully address these concerns in a problem-focused visit."
Are you trying to find a pediatrician? Look here if you live in Illinois. Look here if you live in Wisconsin.
Related Posts
Comments
About the Author
Holly Brenza, health enews contributor, is a public affairs coordinator on the content team at Advocate Health Care and Aurora Health Care. She is a graduate of the University of Illinois at Chicago. In her free time, Holly enjoys reading, watching the White Sox and Blackhawks, playing with her dog, Bear and running her cats' Instagram account, @strangefurthings.