Does your age contribute to a high-risk pregnancy?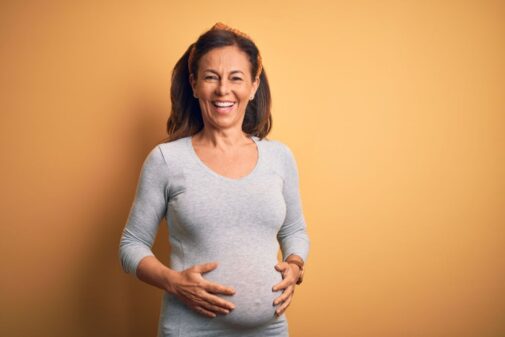 As you plan for your pregnancy, you may hear that age can play a significant role in your experience and the overall health of both you and your baby.
While advanced-age pregnancy, also known as geriatric pregnancy, is not a new concept, it is becoming more common.
A new study indicates that more people are getting pregnant later in life.
This may be due to families seeking financial security or using treatments that allow for a later pregnancy. However, advanced-aged pregnancies are considered high-risk.
Historically, a pregnancy is considered high-risk when the birthing parent is 35 years old or above. More recent studies divide age into different risk categories: 35–39 years, 40–44 years, 45–49 years, and 50 years and older. Each risk category increases the likelihood of a pregnancy complication.
Dr. Nicole Salvo, OB-GYN physician at Aurora Sinai Medical Center in Milwaukee, Wis., explains the complications associated with having a child at an older age.
"The parent can experience issues of worsening medical conditions such as hypertension, diabetes and obesity," says Dr. Salvo. "As for the newborn, there may be chromosomal or genetic abnormalities, pre-term delivery or even stillbirth."
Advancing age is also a risk factor for obstetric complications such as hypertensive disease of pregnancy/preeclampsia, cesarean delivery, postpartum hemorrhage and gestational diabetes.
Dr. Salvo also notes that there are disproportionate rates of adverse outcomes in Black, American Indian and Alaska Native pregnant individuals aged 35 years and older.
Since getting pregnant at a later age is more common, it's important to learn what you can do to keep yourself safe and healthy during pregnancy.
Doctors take special measures to support those experiencing an advanced-aged pregnancy. You may have additional laboratory evaluations, early and/or additional ultrasounds in pregnancy, consultations with a genetic counselor and additional monitoring of the fetus and pregnancy in the third trimester.
Dr. Salvo notes the importance of keeping open communication with your doctor.
"Shared decision making is the most important way to promote a healthy pregnancy," says Dr. Salvo. "Discussing your concerns with your physician, being heard, and listening to the information your clinician provides will allow you to make the most informed and best decisions for yourself, your baby and your family."
 Are you trying to find a doctor? Look here if you live in Illinois. Look here if you live in Wisconsin.
Related Posts
Comments
About the Author
Margaret Weiner is a senior at Marquette University studying public relations, corporate communications and business administration with a concentration in communication leadership