When should teens transition to a primary care physician?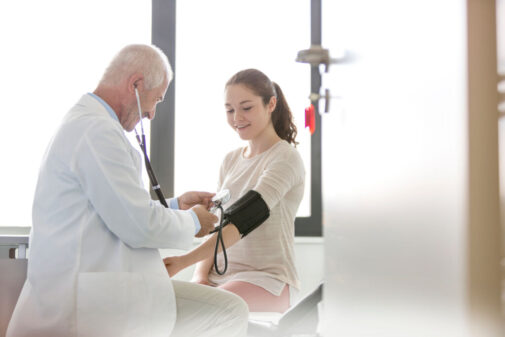 Is your child between the ages of 18 and 21? It may be time for you to transition them from their pediatrician to a primary care physician.
"Transition to adulthood is a crucial time for your teen," says Dr. Jayasri Dasar Raju, a family medicine physician with Advocate Medical Group in Naperville, Ill. "It is important to find a primary care physician whom they can trust and can continue to address their health care needs. This includes routine physicals, medication management or monitoring of chronic conditions."
Pediatricians are trained to treat teens, so it is completely fine for them to continue to see their pediatrician as long as they feel comfortable. When they are ready to make the transition, talk to their pediatrician and ask for suggestions of primary care physicians.
Here are some tips for making the transition:
Start the discussion early. Talk to your teen's pediatrician about when the right time is to make the switch.
Look for primary care physicians who are accepting new patients. Once you have a few selected, schedule an appointment to meet each of them to make sure they are a good fit.
Encourage your teen to self-manage their health care needs by getting involved in making decisions.
Ask friends and family who may have gone through this process already for guidance. They may even have physician recommendations.
It is important for your teen to be part of their health care decision-making process by building their skills to understand their health needs.
Here are ways you can prepare your teen:
By the time your teen reaches high school, let them have alone time with their pediatrician to build self-advocacy.
If your teen has a chronic health problem, make sure to talk to them about it so they understand it.
If your teen takes regular medications, make sure they know the names of them and why they are taking them.
When finding a primary care physician, choose someone that you and your teen trust and whom they feel comfortable with.
"Now that your teen is an adult, it is important that they are vocal in what they need and want from their health care provider. I suggest using trustworthy online resources that help guide you on getting the preventive services your teen needs," says Dr. Dasar Raju.
Start your search for a doctor near you. Look here if you live in Illinois. Look here if you live in Wisconsin. 
Related Posts
Comments
About the Author
Amy Werdin, health enews contributor, is a provider public affairs coordinator with Advocate Health Care and Aurora Health Care. She has been with the organization for 19 years, starting out in marketing for Advanced Healthcare, then Aurora Health Care and now in her current role. She enjoys reading, movies and watching her two daughters dance and her son swim.