How to get the most out of physical therapy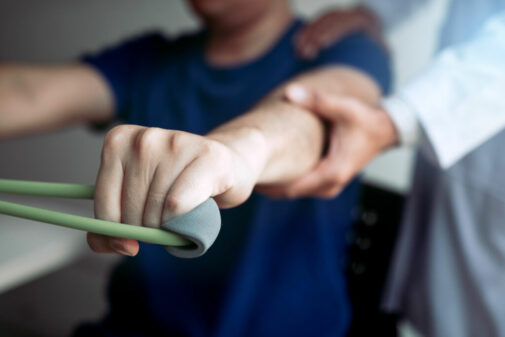 Whether changes in your body were triggered by a lifestyle change or some other reason, Katrina Yelick, a physical therapist at Advocate Health Care, is on a mission to help people get back on track.
"My goal is to help my patients move better, get stronger, improve their quality of life, and gain confidence physically while simultaneously taking into account the psychological and social aspect of my patients' lives," says Yelick.
Yelick, specializing in outpatient therapy, sees a variety of patients from the formerly active 30-year-old trying to get back into a workout routine to the middle school basketball player aiming to start in next month's game or even to the grandma simply wanting to keep up with her grandchildren.
But like anything, physical therapy takes time and effort to see the best results.
Yelick says the best thing patients can do to get the most out of physical therapy is to "Come with a purpose. Come excited. Come with questions." She also stresses that it's important to be willing to do some things at home and communicate with your therapist where you are at. "The communication aspect of physical therapy is so important for both the therapist and the patient," she says.
Simply put, Yelick advises finding a successful physical therapy program that consists of empathy, education and exercise.
Let's break that down.
Empathy
There needs to be an understanding between you and your physical therapist of what your needs and wants are. What is it you want to accomplish and why? Luckily, therapists get to spend a good amount of 1:1 time with patients to help determine goals and build a solid relationship. Yelick says setting goals right off the bat helps set the patient up for success. Goals can look different to each patient so having empathy to each individual patient is crucial.
Education
A physical therapist should also set realistic expectations of those goals. How long it may take to reach those goals can vary and there are a lot of factors in play including consistency and your willingness to put in the work. The more educated you are about the program, the better off you will be. Yelick says, "You have to be able to walk before you can sprint. It is usually between 4-6 sessions when we start looking for some kind of change." Make sure you find a therapist who educates you and works with you to pivot if/when needed.
Exercise
The common theme in all types of physical therapy is it all involves some type of movement and exercise. "In a successful program, the right type of movement is very healing and therapeutic, and it becomes your Tylenol, it becomes your ice pack, etc.," says Yelick. She says that it is important patients do the at-home exercises. Putting in the work at home is a huge factor in getting the most out of physical therapy and seeing improvements.
Finding the right physical therapist can make all the difference in your physical and even mental health. Make sure you look for the green flags when starting a new program and come hungry to work and learn. If you do, the world is your oyster.
Do you have hip or knee pain? Take a free online quiz to learn more. 
Related Posts
Comments
About the Author