Which breast pump is right for you?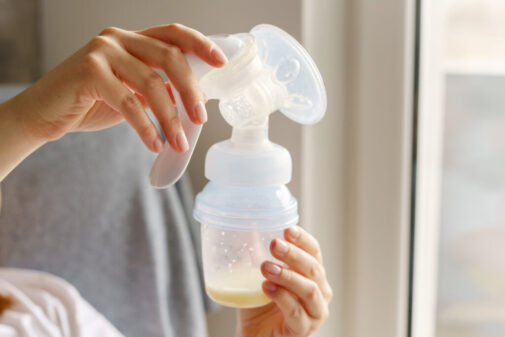 While breastfeeding offers the best source of nutrition for most infants and can reduce certain health risks for both moms and babies, it's not always possible or easy to do, especially at first.
"You hope that the baby can nurse, but there are feeding issues that can come up," explains Holly Pilarek, a certified lactation consultant at Advocate Health Care. "Babies can have trouble latching, need supplemental nutrition or are too sick to nurse. It's important to have an option that helps establish and maintain your milk supply, while preventing the milk from sitting too long and causing painful swelling in your breasts."
That's where a breast pump can help – stimulating the milk-making receptors in the breast and mimicking breastfeeding. If your baby is unable to nurse, the pump can help establish milk supply and maintain it if and until they are able to breastfeed. Breast pumps also ensure that people can continue to breastfeed even when separated from their infant by work, travel or a night out.
So, how do you know which one is right for you?
"Start with your feeding options and goals," Pilarek says. "Consider if you're going to be exclusively breastfeeding, exclusively pumping or some combination of the two. Also, if you want to maintain your milk supply, it's important to develop a plan for returning to work.
There are four general categories of breast pumps: hospital-grade, electric, battery-operated and manual.
Hospital-grade pumps
These are the strongest and parents often use them while they or their baby is still receiving care in a hospital setting. While some retail models claim to be hospital-grade, it's important to do your research, Pilarek cautions. Hospital-grade machines must be strong enough to support multiple uses and are typically only available through the hospital or a rental service.
Electric pumps
These pumps plug into a wall socket and are the next strongest option. They are best if you are exclusively pumping or are just starting to breastfeed. The downside: you can only use them if you're connected to a power source, limiting your ability to multi-task or move.
Battery-operated pumps
These are portable, quiet and work regardless of your access to electricity. They are best for people who have a well-established milk supply and need to pump on-the-go.
Manual breast pumps
Often purchased in addition to an electric or battery-operated pump, this option is the most portable and easiest to use. However, you can only pump one breast at a time.
Pilarek stresses that you get your breast pump early so that you're sure to have it before the baby arrives. Know your budget, talk to your obstetrician to get a prescription for a breast pump, and be sure you understand your insurance coverage, which may be limited to specific breast pump models or include accessories like a pumping bra.
"Do your research and know that we're here to help," Pilarek encourages. "It can be overwhelming, but we'll help you take the guess work out of finding the right pump and flange size for you."
Seek out a lactation consultant to guide you. These experts help new and expecting parents when they bring their breast pump in for an assessment. They will ensure that it's a good fit, discuss feeding goals and go over how to use it. And the support doesn't end there.
"If you're unsure about anything, seek help right away," Pilarek advises. "Especially if you feel like your supply is dropping or you want to get advice about how to maintain your milk supply when you return to work. However long you're lactating, we're here to support you."
Are you interested in expanding your breastfeeding knowledge?  Find virtual and in-person classes near you in Illinois, Wisconsin or at Aurora BayCare Medical Center.
Related Posts
Comments
About the Author
Kristen Johnson, health enews contributor, is a public affairs and marketing manager with Advocate Health Care and Aurora Health Care. She previously worked as a speechwriter and staffer on Capitol Hill. She enjoys running marathons, good coffee and exploring Chicago's many neighborhoods.