4 common questions about virtual doctor's appointments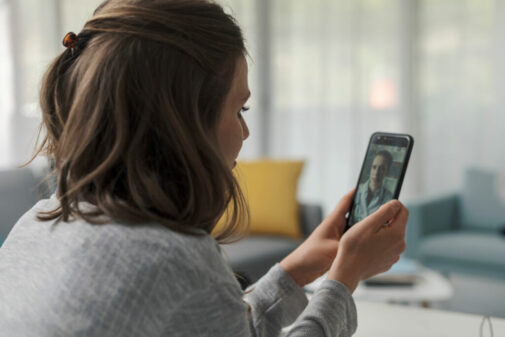 As flu, COVID and RSV cases rise across the country, it's best to prepare yourself and consider a virtual visit as an option for receiving care when you aren't feeling well this season.
Often referred to as virtual health or telehealth, virtual visits help patients get care from a medical provider right from their mobile device or computer.
Kristina Krogstad, an urgent care nurse practitioner specialist at Aurora Health Care, who also works with quick care virtual health, is an advocate for virtual health and its benefits.
"I feel that this is just the beginning of telemedicine technology, and it feels great to be a part of something so big," says Krogstad.
1. What is the benefit of a virtual visit versus an in-clinic visit?
The biggest advantage is the convenience of not having to leave the house when sick. It is especially convenient at home or in the instance of bad weather. Instead of stressing about getting dressed and worrying about transportation, you can stay in your pajamas in the comfort of your own home.
"How wonderful when you don't feel well, and you can stay on your couch," Krogstad states. "You don't have to take your sick child out to a busy waiting room. So much stress is removed from the patient when they don't have to travel to a clinic."
2. How can you best prepare for a video visit?
The most important tips Krogstad shares for preparing for a virtual visit are to get comfortable, make sure you have adequate lighting and the background noise is as minimal as possible. Make sure you are in a relatively quiet place with reliable internet. Additional helpful tips include joining online 10-15 minutes before your appointment and having a pen and paper ready in case you need to take notes or write down other clinic phone numbers.
Lots of questions. Since there is no physical examination, the provider will spend time asking detailed questions to understand your health concern and symptoms.
4. What are some key differences between a video visit and an in-person visit?
There are two big differences between an in-person visit and a virtual visit. The first is that there is a screen between you and the provider. The second is that there is no waiting in a physical waiting room, the waiting room is wherever the patient is. The rest of the visit will be very similar to an in-person visit.
Telehealth services are continually expanding and advancements in remote patient monitoring tools like medical device attachments for smartphones are being developed. "Hopefully patients view virtual care as care that is just as great as the care given inside a clinic," says Krogstad.
To get started, visit aah.org/virtualvisit to explore virtual visit options.
Related Posts
Comments
About the Author
Sophie Darting is a marketing specialist at Advocate Health Care and Aurora Health Care.