This simple tip can help reduce needle-related anxiety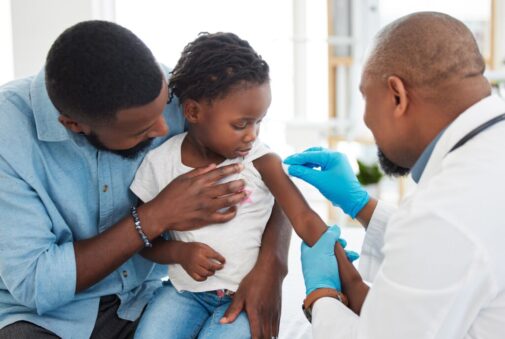 Does your child have an upcoming flu shot appointment? You may be faced with helping manage their anxiety and fear around needles. Dr. Diana Bottari, pediatric pain specialist at Advocate Health Care, offers a simple way you can help.
"By performing a comfort hold, you can reduce not only the pain that can come with vaccinations but also the anxiety, which is often worse than the pain," she says.
Comfort holds are ways to hold your child during a procedure while decreasing movement without pinning them down.
"When you hold a child down, you are increasing their anxiety by taking away any sense of control of the situation they have," Dr. Bottari says. "By utilizing a comfort hold instead, you're comforting them while also decreasing movement."
Dr. Bottari says comfort holds are appropriate for infants, toddlers and young children alike. "They help both the caregiver and child feel more at ease and in control," she explains. "It also gives the caregiver an active role in supporting the child in a positive way."
To help manage their fear of needles, check out these three simple ways to perform a comfort hold during your child's next vaccination.
Front to back
The child is in the caregiver's lap. The caregiver hugs the child, securing their upper arm and torso. This is an ideal position for children who want to observe.
 Side to side
The caregiver stands or sits at the child's side and hugs them, helping to secure their upper arm and torso. This position works well for children who can remain still and want to observe.
 Chest to chest
The child sits in the caregiver's lap. The caregiver hugs the child, securing the upper arm and torso. One of the child's arms remains available for the vaccination. This is a good position for children who do not want to observe.
Do you need to schedule your child's flu shot? Click here if you live in Illinois or here if you live in Wisconsin. 
Related Posts
Comments
About the Author
Holly Brenza, health enews contributor, is a public affairs coordinator on the content team at Advocate Health Care and Aurora Health Care. She is a graduate of the University of Illinois at Chicago. In her free time, Holly enjoys reading, watching the White Sox and Blackhawks, playing with her dog, Bear and running her cats' Instagram account, @strangefurthings.