What is an EKG?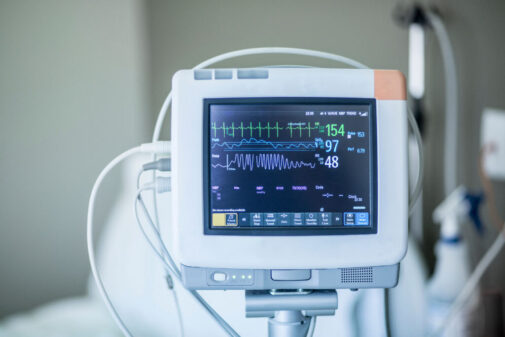 If you've seen a medical television show, you have probably seen a chart showing heartbeat waves or a patient with stickers on their chest. These images are from a commonly used test called an electrocardiogram, or EKG, that measures electrical activity of the heart.
"An EKG is a great way for us to detect and evaluate heart conditions, especially if there are no other signs or symptoms," says Dr. Hani Hashim, a cardiologist at Aurora Health Care. "This noninvasive, quick and painless test allows us to monitor your heartbeat and diagnose any problems."
The test consists of small, sticky patches, called electrodes, that are placed around the chest and other areas. These electrodes are connected by wires to a monitor which record the electrical activity. The results are typically tracked on either a display monitor or on paper.
"An electrical impulse passes through the heart with each beat, causing the heart muscle to pump out blood from the heart," explains Dr. Hashim. "With an EKG, we can see these heartbeats and if the heart electric activity is functioning as it should."
An EKG specifically measures how long it takes for the heart's electrical wave to travel and how much electrical activity is passing through the heart. This indicates to your health care provider if the heart's electrical activity is normal or if areas are damaged.
Dr. Hashim shares that your health care provider may recommend an EKG to:
Detect if any heart conditions are present or monitor existing ones.
Determine the cause of irregular heart rate or heartbeats, or other symptoms.
Evaluate the effectiveness of any heart prescriptions.
Monitor an implanted pacemaker.
Assess overall heart health, including before or after procedures or treatment.
Depending on your EKG results, your doctor may recommend additional treatment or testing.
If you experience symptoms such as chest pain, dizziness, shortness of breath or lightheadedness, seek immediate medical care.
Want to learn more about your risk for heart disease? Take a free online quiz to learn more. 
Related Posts
Comments
About the Author
Hannah Koerner is a Public Affairs Specialist with Advocate Health Care and Aurora Health Care. She received her Bachelor of Arts in Communication from the University of Wisconsin – Green Bay. In her free time, she enjoys biking, snowshoeing, and cheering on Wisconsin sports teams.