A second chance at life for formerly incarcerated individuals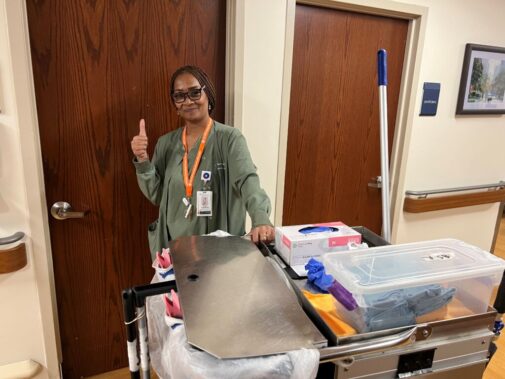 Renee has so much to be grateful for this Thanksgiving. As a "returning citizen", this formerly incarcerated woman has turned her life around.
Born and raised in the projects, Renee fell in with a bad crowd and bad habits. She hit rock bottom in 2016 after being arrested and serving 61 days in prison. Her son was removed from her care and sent to live with his father out of state. The choices she had made up to that point left her with nothing.
That was when Renee realized she needed to turn her life around. She went to rehab followed by 19 months in a women's shelter, where she learned to re-enter society. Her first job was picking up trash on the West side. It brought back memories – that was her neighborhood, and she used to litter all the time. Now she took pride in keeping it clean.
In March 2021, she joined the environmental services team at Advocate Illinois Masonic Medical Center. Renee takes great pride in her job, and she approaches each day with gratitude for her fresh start. She has a job she loves, a home, friends and has reconnected with her son.
"I have purpose today. I go home at peace knowing I put a smile on someone's face," Renee says. "No matter what I went through in my past, I have a second chance."
Teammates say Renee's positive attitude is infectious and she is grateful every day for a fresh start.
"She finds a way to clean with consistency and hit the spots that no one sees," says Courtney Johnson, nursing director at Advocate Illinois Masonic Medical Center. "But she also reaches out to the patients in a way that anticipates their healing and what they need."
Advocate Health Care is committed to being a Fair Chance employer, helping formerly incarcerated individuals find work because employment is the most important factor in reducing recidivism. Approximately 70 million people in the U.S. have a record, and those individuals often face significant barriers to finding employment, even well after completing their prison sentence.
"As an organization, we are focused on improving health, elevating hope and advancing healing for all," says Dayla Randolph, senior vice president of talent and culture at Advocate Health. "Our Fair Chance Hiring program is just one way we are helping to build stronger communities."
The program launched in 2020 and thus far has helped 42 returning citizens by offering fair chance employment and a strategy for long-term career progression.
"I hope that anyone who is struggling knows there are programs out there that are willing to give you a second chance at life," Renee says.
Related Posts
Comments
About the Author
Holly Brenza, health enews contributor, is a public affairs coordinator on the content team at Advocate Health Care and Aurora Health Care. She is a graduate of the University of Illinois at Chicago. In her free time, Holly enjoys reading, watching the White Sox and Blackhawks, playing with her dog, Bear and running her cats' Instagram account, @strangefurthings.