Can people with diabetes eat fruit?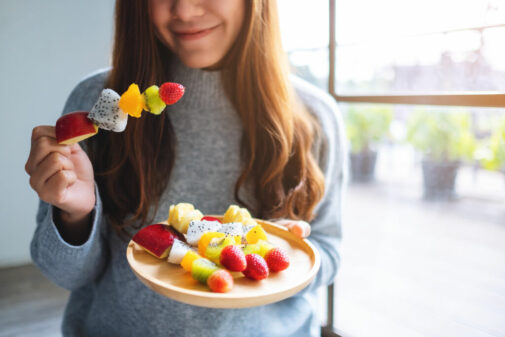 We have always been told that fruits and vegetables are an important part of our diet. But if you have diabetes, you may wonder if you should avoid fruit because of its sugar content.
Type 1 and type 2 diabetes are conditions in which the body cannot regulate blood glucose levels by itself. If you are diagnosed with diabetes, you often have to switch up your diet and take insulin to maintain a healthy blood glucose level.
However, eliminating fruit from your diet is not necessary. In fact, eating a colorful selection of fruits and vegetables can be beneficial to your diet since each color of produce offers its own nutritional benefits.
It's best to eat fruit that is fresh, frozen or canned without added sugars. Eating whole, fresh fruits can be more filling than other fruit options because of the higher fiber and water content. If you choose to eat canned fruit, look for words like "packed in its own juices," "unsweetened," or "no added sugar".
While it is true you may get more "bang for your buck" with whole fruits, small amounts of 100% fruit juice and dried fruit can fit into your diabetes-friendly diet. While these fruit options are nutritious in small amounts, the small portion may not be as filling as other choices.
Fruit juice contains natural sugar and water from the fruit but doesn't have fiber which is why eating whole fruit is better for you. Remember, portions matter! Fruit juice has about as much sugar as regular soda even though it is from a natural source. A serving of fruit juice is 4 ounces or ½ cup.
Instead of focusing on the sugar content in fruit, focus on what you are pairing the fruit with such as a healthy fat and/or protein for a fully balanced diet.
Jessica Schrage is a registered dietitian and diabetes educator at Aurora Health Care.
Find out if you are at risk for diabetes by taking a free online quiz.  
Related Posts
Comments
About the Author
Jessica Schrage is a registered dietitian and diabetes educator with Aurora Health Care in Sheboygan, Wis.