Can breast cancer treatment take a toll on your heart?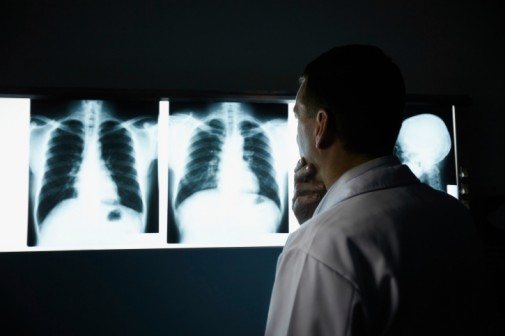 A recent study published in an of the New England Journal of Medicine is giving women who are being treated for breast cancer a strong reason to take care of their heart.
According to researchers, higher doses of radiation treatment for invasive breast cancer following breast conserving surgery and sometimes after a mastectomy can lead to an increased risk of developing heart disease.
In a statement, one of the study's lead authors says, "As radiation exposure to the heart increases, so does the risk of radiation-induced heart disease."
What this means for breast cancer patients
Dr. Heidi Memmel, breast surgeon at Advocate Lutheran General Hospital in Park Ridge, Ill., says while the findings are important, it's equally important to keep them in perspective.
"Women should be reassured that most often the benefits of breast cancer radiation far outweigh the risks to the heart," she says. "Breast cancer radiation treatment can significantly reduce the risk of the cancer returning post-surgery and even death from the disease."
Dr. Memmel also points out that the radiation therapy studied was performed more than 10 years ago. "Techniques have significantly improved since then," she says. "We now use methods like partial breast irradiation, and prone positioning irradiation, which allows us to limit the amount of exposure to the heart and lungs."
Dr. Memmel also says it's vital that women are aware of all the risks associated with radiation treatment to the breasts.
"Before any treatment, I make sure my patients are fully aware of any risks involved," she says. "It's important to arm them with as much information as possible so that they, in partnership with their physicians, can make the best informed decision about their care."
Breaking down the findings
As part of the study, researchers looked back at patient records for 2,168 women in Sweden and Denmark who received radiation therapy for breast cancer between 1958 and 2001.
Among those women, 963 had major heart events and 1,205 did not. Major heart events were described as heart attacks, blocked heart blood vessels, or ischemic heart disease, which reduces blood supply to the heart. The researchers found that the rate of major heart events increased proportionally to the average radiation dose delivered to the heart.
The risk typically started within five years after treatment. Forty-four percent of these major heart events happened less than 10 years after breast cancer was diagnosed. Women with cancer in the left breast averaged more heart exposure to radiation therapy compared to women with cancer in their right breast.
Patients who already had risk factors for heart problems — like diabetes smoking being overweight — had higher rates of major heart events after breast radiation. There was also a proportional increase in heart-related risk for women without pre-existing heart disease risk factors, but that percentage was much smaller.
Authors for the study say they didn't look at all types of heart problems linked to radiation therapy. And there was no closer look at chemotherapy either, which also has been linked to heart trouble.
Researchers hope the findings will encourage more doctors to identify women with pre-existing heart risk factors, as well as those with a small distance between their heart and breast. This way treatment can be tailored to minimize heart exposure to radiation.
But Dr. Memmel says there is also a strong message in the findings for patients.
"It's important for women to let their primary care doctors know if they've had radiation therapy for breast cancer," she says. "This way they can evaluate other cardiac risk factors, such as high blood pressure and cholesterol."
She says women can also take heart healthy steps such as watching their diets and managing their blood pressure: "Knowledge is power for patients and physicians."
For more information on breast health, visit www.Storiesofthegirls.com.
Like it, share it or leave a comment!
Tags
About the Author
Stephanie Johnson, editor-in-chief of health enews, is an award-winning journalist and writer with more than 13 years of media and public relations experience. She serves as director of public affairs for Advocate Health Care, one of the nation's top health systems. In her seven years in television news, Stephanie worked as a segment producer for ABC News in New York, where she produced national stories for both Good Morning America and World News Tonight.

Stephanie also worked as a freelance writer for WFLD Fox News Chicago, a freelance producer for ABC News and NBC News and as co-anchor and reporter for 16 WAPT News, the ABC affiliate in her hometown of Jackson, Mississippi. In her spare time, you can catch Stephanie, her hubby Mario and their two doggies traveling, volunteering and mentoring young students.
Related Posts