Protecting children from magnets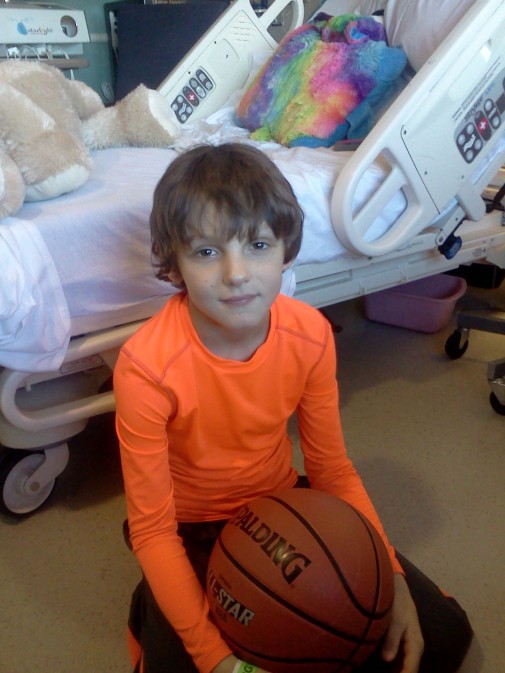 "Mommy, make it stop. My stomach hurts really bad!" Brandon exclaimed.
Kelly Bruski watched in horror as her 9-year old-son vomited violently and uncontrollably. She felt helpless as she watched her child suffer, and she had no idea what was wrong.
An emergency room visit revealed a cause Bruski never imagined: Brandon had ingested metal.
Brandon, however, could not remember swallowing anything. The pediatric surgeon at Advocate Children's Hospital – Park Ridge sprang into action, performing emergency surgery. They found two magnetic, marble-sized balls usually used for office desk decoration or as a toy.
"One ball was in the last segment of the small bowel. The other ball was in the first segment of the colon or large bowel," recalls Dr. Andrea Lo, a pediatric surgeon at Advocate Children's Hospital – Park Ridge. "Both magnets were burrowing through the lining and muscle layers of their respective segments of bowel, trying to reach each other."
Getting the Magnets Out

During the nearly two-hour surgery, which happened in January 2013, Lo's focus was to find the balls and get them out of Brandon's intestines. "I had to open the bowel near the appendix to pluck the magnets out. They were actually so buried in the bowel wall that I had to remove the whole segment of bowel that contained the magnets because of all the inflammation," Lo explains. "I then put the two bowel ends back together."
Without emergency surgery, the magnets would have continued trying to attract to each other with such force that they could have pierced a hole in the intestines, called a bowel perforation. This could have caused internal bleeding if the magnets had eroded through a blood vessel, or the contents of the intestines could have spilled out, resulting in life-threatening medical complications, like a blood stream infection.
"I thought I was being careful by not allowing my 5-year-old son to play with magnets alone," Bruski says, as Brandon recovered from his surgery. "I never thought my 9-year-old would be the one to worry about. I guess we all need to be more aware."
Getting the magnets off the shelves
Ingesting high-powered magnets is a growing and serious problem among children and teens, despite package warning labels.
Between 2008 and 2011, the U.S. Consumer Product Safety Commission (CPSC) received more than 200 reports of children swallowing high-powered magnets, also called rare earth magnets, according to a November 2011 news release. But estimates could be as high as 5,000 incidents.
Older children have also been found to accidentally ingest the magnets by trying to use them as mouth, nose and tongue rings.
In November 2012, the North American Society for Pediatric Gastroenterology, Hepatology and Nutrition (NASPGHAN) applauded the Consumer Product Safety Commission for proposing to ban the magnet sets.
These aren't just your typical refrigerator magnets. They are made from the same metals used to make computer hard drives and power tools, according to NASPGHAN's letter to the safety commission. "Cases of high-powered magnet ingestions appeared to decline until new high-powered magnet set products entered the market in 2008," the group wrote.
In December 2012, the safety commission banned the magnet balls for being too dangerous and sued them for causing too many injuries to children. Eleven other companies voluntarily took their products off the shelves as well.
Staying Safe from Magnet Ingestion
Kiran Gorla, MD, pediatric gastroenterologist at Advocate Children's Hospital – Park Ridge, Ill offers these tips for keeping kids safe around magnets:
Read the warning labels, and avoid buying toys containing magnets or magnetic parts.
Make a note of all the toys at home that contain magnets, and check these toys regularly. Also, check the toy box regularly for any stray magnets.
Monitor children when they are playing with toys containing magnets. Contact a pediatrician or go to the nearest hospital emergency room if you suspect a magnet may have been swallowed.
Signs that your child may have swallowed a high-powered magnet may not occur immediately, according to NASPGHAN. But when they do, here's what to look for:
Flu-like symptoms
Abdominal pain
Fever
Vomiting
Related Posts
Comments
About the Author
health enews staff is a group of experienced writers from our Advocate Aurora Health sites, which also includes freelance or intern writers.