The liquid alternative to allergy shot therapy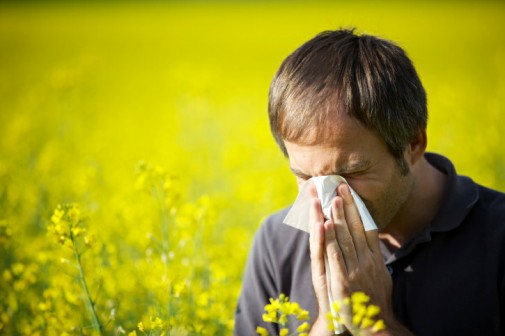 April showers bring May flowers, but for millions of allergy sufferers, it also brings stuffy noses, sneezing and a host of problems that can take the fun out of spring.
According to the Centers for Disease Control and Prevention, almost 17 million Americans suffer from hay fever allergies, and more than 8 million people are diagnosed with respiratory allergies in a typical year.
While some over-the-counter remedies provide temporary relief, those with severe seasonal allergies may need a more long-term remedy.
For those who would like to forgo allergy shots, new analysis finds that allergy drops may be an effective alternative.
A report published last March in the Journal of the American Medical Association, found that under-the-tongue allergy drops can be an effective option for some allergy sufferers.
Known as immunotherapy, both the shots and drops work the same way as any other vaccine, according to the American Academy of Allergy, Asthma & Immunology. With allergy shots, small amounts of particular substances that cause allergies, called allergens, are injected gradually. With the drops, these allergens are trickled under the tongue. Both methods allow the body to develop an immunity or tolerance to the allergy-causing substance. The report said positive outcomes have been achieved, but more research is needed on proper dosing.
Dr. Aijaz Alvi, an Advocate Health Care ear, nose and throat specialist based in Barrington and Elgin, Ill., says he's been prescribing the drops for his patients and is seeing positive effects.
"The end benefit is simply feeling better. My patients typically report fewer allergy-related clinic visits and hospitalizations, and less time lost from work or school, after taking drops consistently," he says
Benefits of allergy drops
Allergy drops are not new, but Dr. Alvi says many people just don't know about them.
"Allergy drops have been used around the world for more than 60 years but are becoming more popular in recent years," he says.
Convenience can be another reason to consider drops.
"Patients can self-administer the allergy drops at home or work. They do not have to spend time coming to the doctor's office. It can be a good option for busy, working individuals," Dr. Alvi says.
The drops can benefit patients with chronic sinusitis, severe asthmatics, and patients with food and mold allergies including dust, pollens, and animal-related allergies, Dr. Alvi says. They can also be helpful for children with eczema and recurrent ear infections, which often have underlying allergic causes.
How to use allergy drops
People interested in allergy drops must first be tested to confirm the allergies. Then, the physician will determine the dosage.
"Patients often start feeling relief in just one to two months of taking the allergy drops," Dr. Alvi says. "Also, most patients find their allergy drop treatments lasts three to five years based on their level of sensitivity and how well they follow treatment instructions. After that, most symptoms are gone or are well controlled enough to possibly require little or no further medications."
However, that success, Dr. Alvi says, depends on how consistently patients keep up with their doses.
Talk to an Advocate Health Care physician about using allergy drops.
Related Posts
Comments
About the Author
health enews staff is a group of experienced writers from our Advocate Aurora Health sites, which also includes freelance or intern writers.