4 tips to building a strong caregiver support team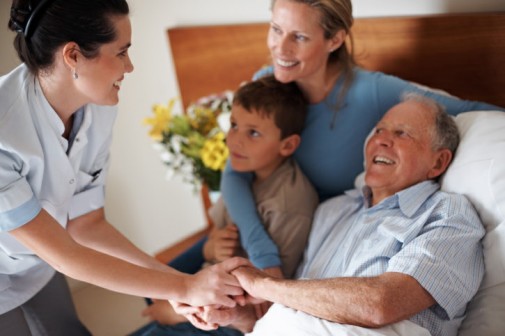 Caregiving can be a taxing labor of love. And a large portion of the U.S. population are providing care for loved ones on top of working.
About 29 percent of people in the U.S. have pitched in to help loved ones within the last year, says a 2009 study by AARP and the National Alliance for Caregiving. Most often, they are caring for seniors with dementia and Alzheimer's, people recovering from cancer treatment or stroke, and children with special needs.
But experts warn that caregiving can take a toll on your health. In fact, research shows that the extreme stress of caring for a sick loved one can shorten a caregiver's life by 10 years, according to data from the Proceedings of the National Academy of Sciences.
That's why some experts say family caregiving should be a team effort. Seeking support and accepting help from others is among the top recommendations for caregivers from the Caregiver Action Network, a national support and advocacy organization for people who provide unpaid care to loved ones.
Based on the recommendations, here's what a caregiver team might look like:
Administrator
The administrator's role is to help juggle duties that require close attention to details and deadlines, like staying on top of doctor's appointments and medications. There may even be legal considerations or steps to make sure health insurance and disability benefits are in order.
Administrators can also help with the significant financial burden of caring for a loved one. The average caregiver for an older adult spends more than $5,500 in out-of-pocket expenses, according to a 2008 study by AARP. And, according to a report from the National Alliance for Caregiving and Evercare, nearly half of all working caregivers report using up all or most of their savings, especially if an unexpected illness occurs.
Family Spokesperson
When a loved one comes down with a sudden illness or is recovering from a major procedure, someone should be available to answer phone calls, receive any gift deliveries and send thank you notes. When concerned friends and family members want to get updates or stop by for a visit, direct them to the designated spokesperson to coordinate.
This person can also help the primary caregiver manage any email or social media accounts used to share important information or health updates.
Worker Bee
The worker bee is in charge of the everyday tasks that can fall off the radar. This can include chores, such as doing dishes, cleaning the house, checking the mail, paying the bills, walking the dog and running errands.
The worker bee can also take care of grocery shopping and preparing food, especially if the loved one's illness requires a drastic change in diet. Having a worker bee come by, even just one day a week, can be a tremendous help.
Counselor
Aside from all of the responsibilities, it's important to have someone to talk to. Up to 70 percent of caregivers outwardly show signs of clinical depression, according the Family Caregiver Alliance report. The counselor can help the caregiver plan ways to take time for themselves, give themselves a breather and get their minds off the illness for a while.
Experts say, as a caregiver, the key is to not be afraid to ask for help, so you can get the support you need to stay healthy.
Related Posts
Comments
About the Author
health enews staff is a group of experienced writers from our Advocate Aurora Health sites, which also includes freelance or intern writers.