Dental van delivers smiles to those in need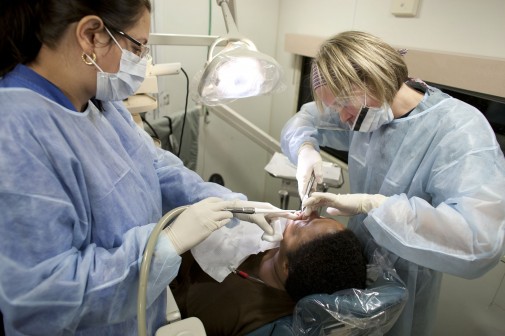 Five days a week, 52 weeks a year, the Dental Van pulls through streets of some of Chicago's most underserved areas. Visiting homeless shelters, public schools, nursing homes and community centers, everyone who needs a reason to smile is welcomed aboard.
The Dental Van, the vehicle behind the Mobile Dentistry Program at Advocate Illinois Masonic Medical Center, is a modern dental office on wheels. With two exam chairs and a staff, virtually any service normally provided in a freestanding dental facility can be performed right where the patients are.
"We provide care to groups who can't find dental care elsewhere," says Dr. Harvey Wigdor, founder of the program and current chair of Advocate Illinois Masonic Medical Center's Department of Dentistry. "This is public health 101 — doing what's best for the community we serve."
Such a mobile set-up was rare at the time, so Dr. Wigdor and his wife, Pam, brought the first Dental Van back from Portland, Ore., in 1999. The program quickly took off, using their connections to organizations serving those in need through various Advocate Health Care hospitals.
"Once the word got out that we had the van, I was getting phone calls from groups throughout the city," he says. "The need was so great, we weren't able to accommodate everyone."
In fact, Dr. Wigdor says the need is even greater today than it was back then. So they added a new van.
Filling the gaps in dental care
"Dental care isn't well integrated into the safety net of health care," Dr. Wigdor says. "With cuts to health care and social programs, dental coverage is one of the first things to go."
In fact, emergency departments nationally have seen a 59 percent increase in the number of patients coming in with dental needs, according to a November 2012 study in the American Journal of Public Health. These are needs that, had they been taken care of earlier by a dentist, would not have required emergency care, Dr. Wigdor says.
The crew on the Dental Van — one attending dentist, one resident dentist, and a dental assistant/driver — see more than 1,300 patients a year at about 20 different sites each month. Sites include schools in low-income neighborhoods, homeless shelters and even stops with the Night Ministry, also a mobile organization that assists Chicagoans struggling with homelessness and poverty.
Every condition — from teeth cleaning to tooth extraction, bridges, dentures and anything in between — is performed in the Dental Van. "We do prostheses, restorations, fillings, crowns — we run the gamut," says Dr. Amy Martin, assistant director, Mobil Dental Services. "And everything is offered with little to no fees. Much of our work is provided pro bono, especially now."
The same crew rotates through the same sites as often as possible to build relationships with patients and prevent giving redundant or conflicting services. The program's equipment and operations budget is and has always been supported through grants and charitable donations, Dr. Martin says. "Through the generosity of others, we're able to provide so many smiles."
The patients are definitely left smiling.
Edward Grady of Chicago, one of the many patients who has come through the Dental Van, says his dental problems not only affected his smile, but also his health. His teeth hurt him so badly he was unable to eat solid food for months. He says he lost dozens of pounds before he found the Dental Van at the shelter where he was living in the summer of 2010.
Before getting his crown installed, he had to overcome one large obstacle — his fear of needles.
"But, when you're dealing with dentists, you've got to deal with needles," Grady says. In addition to fixing his toothaches, the Dental Van staff helped him face his fear of needles.
"They made me feel really comfortable, so I had no problem coming," he says. "It's not just because of the dental work, but it's how they make me feel that keeps me coming back."
To find out more information about how you can support this worthwhile cause, please contact the Advocate Illinois Masonic Medical Center Foundation Office at 773.296.8382.
Related Posts
Comments
About the Author
health enews staff is a group of experienced writers from our Advocate Health Care and Aurora Health Care sites, which also includes freelance or intern writers.