Are you a distracted walker?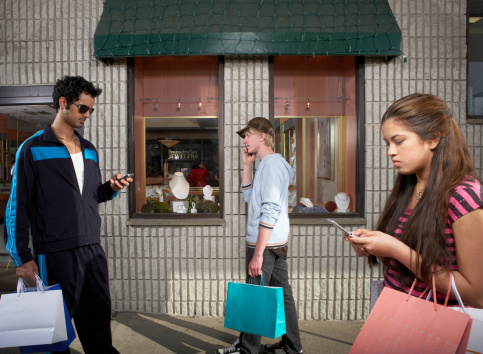 Using your cell phone while walking sounds like an easy enough task, right? But a new study shows that it's not so smart to walk and text with your smartphone. In fact, it can be dangerous for your health.   
Researchers compiled data from the National Electronic Injury Surveillance System and found that an estimated 1,500 people ended up in the emergency room in 2010 because they were using their cell phones while walking.  The numbers show a drastic increase from 2004 when the injuries were at 256. Researchers say a major factor of course is—distraction.
The findings from the research team at Ohio State University were recently published in the journal Accident Analysis and Prevention, which focused raising awareness about the potential dangers of walking distracted. 
Lead study author, Jack Nasar, said in a statement, that data clearly shows that cell phone use isn't just a danger to drivers, but also to those walking. He suggests folks strongly consider stopping this bad habit.   
And if his words of wisdom are not enough to convince you, then perhaps a snapshot of some of the injuries reported might move you—everything from sprained elbows, cuts, bruising and even instances of people walking in front of moving vehicles.
Researchers found that those under 31 were most likely to get hurt while walking and using their cell phone and those 21 to 25 had the most injuries.  They also reported that pedestrian men were 53 percent more likely than women to be injured.
Dr. Valerie Phillips, emergency medicine physician at Advocate Good Samaritan Hospital in Downers Grove, Ill., says, in general, performing any activities while texting can be dangerous. 
"The more critical thinking that is needed for the activity, the more likely that there will be a serious consequence," she says. "Texting while driving has resulted in a tragic number of deaths and critical injuries, including to innocent persons involved in the accident. We have also seen injuries sustained when people text while walking, cycling, roller blading and other similar activities. These range from sprains and bruises, to more serious lacerations and broken bones."
Phillips adds, "If you wouldn't consider doing the activity with your eyes closed, you shouldn't be doing it while texting."
Related Posts
Comments
About the Author
Sarah Scroggins, health enews contributor, is the director of social media at Advocate Aurora Health. She has a BA and MA in Communications. When not on social media, she loves reading a good book (or audiobook), watching the latest Netflix series and teaching a college night class.