Dance therapy for Parkinson's?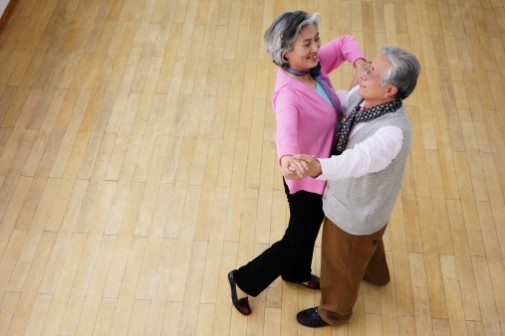 Each year nearly 60,000 Americans are diagnosed with Parkinson's Disease (PD), according to the Parkinson's Disease Foundation.
Experts say that in the early stages of PD recommendations may include medication, daily exercise and speech therapy. It is a neurodegenerative brain disorder that progresses slowly in most people, according to the National Parkinson Foundation.
And did you know? The NPF says that PD is one of the most common nervous system disorders to affect the elderly.
Some symptoms of PD include rest tremors, bradykinesia (slow movement), rigidity, flexed posture, poor balance, altered gait and changes in writing skills. Not everyone experiences all these symptoms, according to the NPF. Staying active is a key component for maintaining balance and mobility since PD's greatest effect is on one's motor skills.
One example of getting active can be seen in the Advocate Good Samaritan Health and Wellness Center's "Dance for Parkinson's" class—one of the few of its kind in Illinois.
"The class focuses on balance, muscle rigidity, coordination and postural instability while having fun with music and various forms of dance," says Christine Cornell, group exercise instructor at the Center. "Even care partners are encouraged to participate so they can take home what they learn in the class."
The class encourages seated movement, vocal exercise and, of course, dance moves. "With every class, I see improvement in each attendee from their balance to their movements to their outlook on life," Cornell says.
Megan Simmons, personal trainer and instructor of the class at the Center says that in the class, participants do the same things as dancers – using coordination, knowing how and when to step in a certain direction and being quick but be smooth at the same time.
"These are all qualities that people with PD and movement disorders need to continually work at every day," she says.
Mangal Sangha, a resident of Lombard, Ill., takes the dance class and exercises five days a week at the Wellness Center.
"I have been attending the [Dance for Parkinson's] class for a month and have already noticed a difference in my walking and speech," Mangal says.
"PD doesn't have to end your movement," Cornell says. "Take a chance with exercise, and maybe even a little dancing."
Related Posts
Comments
About the Author
Sarah Scroggins, health enews contributor, is the director of social media at Advocate Health Care and Aurora Health Care. She has a BA and MA in Communications. When not on social media, she loves reading a good book (or audiobook), watching the latest Netflix series and teaching a college night class.