Can big brains cause anorexia?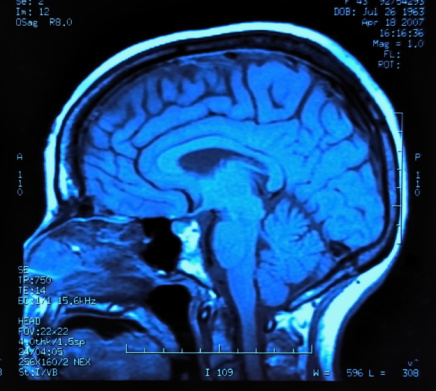 The causes of anorexia nervosa among teens aren't completely clear. Some experts believe the eating disorder can be tied to psychological or even environmental triggers.
Now, a new study says the size of a teen's brain could have a connection.
Researchers at the University of Colorado's School of Medicine found that teens with anorexia have bigger brains than teens who don't have the disorder. The results were published the Journal of the American Academy of Child and Adolescent Psychiatry.
Study leaders used magnetic resonance imaging (MRI) to compare brain volumes between 19 young girls with anorexia and 22 girls who didn't have the eating problem.
The girls with anorexia displayed "greater left orbitofrontal, right insular, and bilateral temporal cortex gray matter compared to the control group," researchers said.
The orbitofrontal region is the part of the brain that tells us when to stop eating, the study explained. Researchers speculate that teens with larger orbitofrontal regions get signals to stop eating much sooner than those smaller regions.
It could be that these "bigger brains" might be the reason teens with anorexia are able to starve themselves.
"While eating disorders are often triggered by the environment, there are most likely biological mechanisms that have to come together for an individual to develop an eating disorder such as anorexia nervosa," said study leader Dr. Frank Guido, in a news release.
Eating disorders continue to be an epidemic in the U.S. every day, according to the National Association of Anorexia Nervosa and Associated Disorders (ANAD).
The ANAD estimates more than 8 million Americans have a type of eating disorder. The majority are women with most of them starting these eating disorders in their teens.
The two main types of eating disorders that affect youth today are anorexia and bulimia. Anorexia is a disorder characterized by delusions that you are too fat, when in fact you are very thin. Bulimia is when a person binges on large amounts of food and then tries to get rid of it by fasting, excessive exercise, taking diet pills, vomiting or using laxatives.
The National Eating Disorders Association says the following are typical signs of eating disorders:
Excessive or rigid exercise routines
Constant denials of hunger or skipping meals
Dramatic weight loss or dramatic fluctuations in weight
Unnatural preoccupation with dieting, weight and food labels
Changes in clothing to cover up drastic weight loss
Withdrawal from friends and activities
Abuse of laxatives, diet pills as well as self-induced vomiting
Related Posts
Comments
About the Author
health enews staff is a group of experienced writers from our Advocate Aurora Health sites, which also includes freelance or intern writers.