5 tips for air travel with babies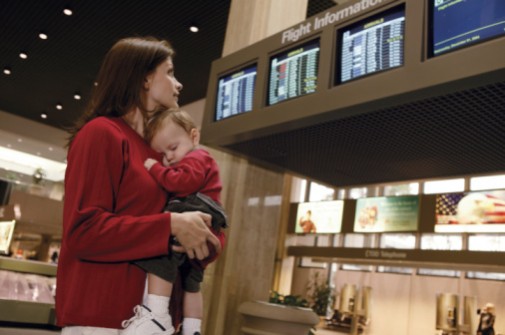 The idea of getting on a plane with a baby can be intimidating, especially on those days when just getting out the door seems impossible. But, with a little planning and preparation, you can turn your baby into a healthy jet-setter before he's even learned to crawl. Here are five tips for air travel with your infant.
1. Pick the right flight and the right seat.
Take into consideration your baby's schedule and see if you can plan your trip for your baby's sleepiest time—even if that means taking the red eye in the wee hours of the morning. A sleeping baby is a happy baby. Also, when picking a spot on the plane, shoot for a bulkhead aisle seat. Sitting in a bulkhead seat, the ones in the front row, will give you more space to stretch out and handle diaper changes. Also, an aisle seat gives you easy access to walk a fussy baby.
2.  Car seat or carry
The Federal Aviation Administration (FAA) recommends babies less than 40 pounds be secured in car seats on airplanes, but it's not required. If you choose to fly with your baby in your arms, be sure to use a sling or other soft carrier. This will make it much easier for you to relax and get comfortable.
3. Protect those little ears.
Changing cabin pressure during a flight causes temporary changes in middle ear pressure, which can trigger ear pain. To help equalize the pressure in your baby's ears, Parenting.com recommends encouraging your baby to suck on a bottle or pacifier during takeoff and landing. As for in-flight breastfeeding, there are generally no rules against it; however, you may want to call your airline to double-check its policy before your flight. Additionally, the Centers for Disease Control and Prevention (CDC) recommends "frequent and unrestricted nursing opportunities" to maintain a mother's milk supply while traveling.
4. Block bad germs from baby.
Newborns are particularly vulnerable to illness; even a simple cold can become life-threatening. And, since airplanes are like giant petri dishes for germs, err on the side of caution. Dr. Harivadan Gandhi, pediatrician with Advocate Trinity Hospital, says covering your infant with a breathable blanket can be a great barrier between baby and bad germs. Dr. Gandhi also says tiny nostrils and dry cabin air are not a comfortable mix.
"Babies' airways can get stuffed up easily, and dry air can make a bad situation worse. A quick squirt of nasal saline solution every 30 minutes helps keep the nasal passages open when traveling with your little one, " he says.
Dr. Gandhi also recommends washing your hands as often as possible. He says if you catch something on the plane, it's almost guaranteed your baby will then catch it from you. Avoid germs by scrubbing up frequently and keeping your hands away from your face.
5. Keep calm and carry on.
At the airport, the Transportation Security Administration (TSA) has guidelines in place for traveling with breast milk. Parents flying with, or without, their child can bring more than 3 ounces of breast milk as long as it's presented for inspection at the security checkpoint. This also covers water, juice and baby food for mothers with older babies. Also, empty bottles are OK.
If you're going to carry breast milk onto a plane, the TSA says to:
Separate these items from the liquids, gels and aerosols in your quart-size, zip-top bag.
Let agents at the security checkpoint know you have these items.
Present the breastfeeding items for additional inspection once reaching the X-ray machine.
Related Posts
Comments
About the Author
health enews staff is a group of experienced writers from our Advocate Health Care and Aurora Health Care sites, which also includes freelance or intern writers.