3 words that changed my life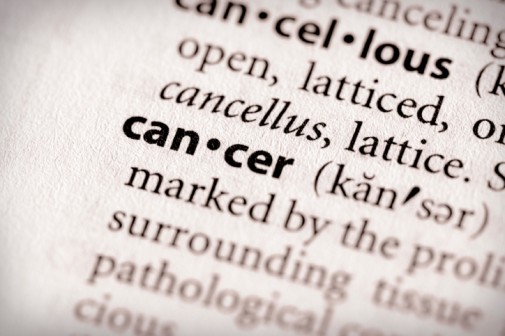 The year 2007 was an eventful year for me and my family. I delivered a beautiful baby boy, my first, that April.
After being on maternity leave, I returned to work in a new role at Advocate Good Samaritan Hospital as the director of the Emergency Department, EMSS and Trauma Services. My husband and I just celebrated our second wedding anniversary and moved into our new home. And in November, we both celebrated our birthdays, with me turning the ripe old age of 36. The year was coming to an end and we were looking forward to what 2008 would bring.
As we got ready for a family Christmas party, I was holding our 8-month-old son when he became squirmy and pushed on my chest to wiggle out of my embrace. "Ouch! That hurt!" I said, but didn't think much about it. Off we went to the party.
About a week later, the same thing happened again. I did a quick self-breast exam but didn't feel anything strange. Then I remembered being told the importance of lying down and raising your arm above your head; I did just that and felt a large lump deep in my left breast.
I was instantly worried it was breast cancer because I have a very strong family history of the disease. Immediately, I made an appointment with my obstetrician/gynecologist, who ordered a mammogram and ultrasound on Jan. 8, 2008. Even though deep down I had a feeling the results were not going to be good, I kept trying to convince myself it wasn't cancer.
When my physician returned to the room, he said those words that would change my life forever: "I'm sorry. You have cancer."
I was stunned. I started crying. "But I have a baby!" I said through tears. He proceeded to explain next steps, but I was in a fog. I always figured at some point in my life I was going to get breast cancer. But not now! Not at 36! Not when I have an 8-month-old baby to take care of! Not when I've only been married for two years!
Overnight, I went from being a very healthy person to having lots of doctors' appointments, medical testing and difficult decisions to make. I was scared. I learned early on that my cancer was most likely at Stage III. I became obsessed with my husband taking pictures and videos of me with my son – just in case I wouldn't be around to see him grow up.
Would he remember me and know how much I loved him? Would he know how much joy he brought me? I remember praying, "Dear Lord, please let me live to at least long enough for me to see him graduate from kindergarten. Please."
I underwent a bilateral mastectomy on Jan. 24, 2008. Pathology confirmed that my cancer was at Stage IIIA. My tumor was 6.5 cm and I had positive lymph nodes. I was going to be starting chemotherapy, then radiation, then Tamoxifen therapy, and finally another surgery for breast reconstruction. I scheduled that last surgery on New Year's Eve, 2008.
Although 2008 ended up being an incredibly rough year, by the grace of God, the expert skill of my physicians, nurses, and health care team, tons of praying, unbelievable support from family, co-workers and friends…I made it through.
Fast forward to today. I just reached my five-year breast cancer survival mark. In June, my son graduated from kindergarten and I was there cheering him on with tears in my eyes, loving every minute. God had answered my prayer.
Related Posts
Comments
About the Author
Ginger Diven is a breast cancer survivor and registered nurse with Advocate Medical Group, located at Advocate Good Samaritan Hospital's Cancer Care Center in Downers Grove, Ill. Previously, she was director of the emergency department, EMSS and trauma services at Good Samaritan Hospital.