At-home strep throat test?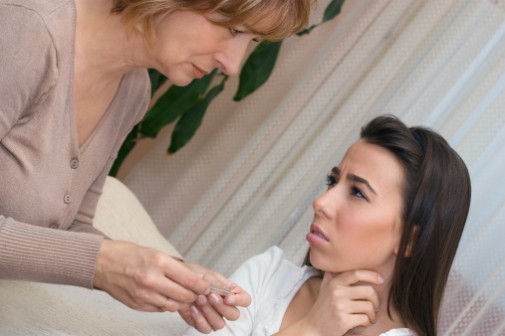 You now may be able to self-diagnose your strep throat with a simple at-home test.
A new study from Boston Children's Hospital and the University of California has assessed an easy test that researchers claim to be as precise as lab tests.

With strep throat being a highly contagious sickness, it is easily caught by the bacteria particles in the air being transferred to another person through coughing and sneezing.
The study, published in the journal Annals of Internal Medicine, took a look at more than 71,000 patients ages 15 and up with sore throats over a two-year period.
Researchers would design an app that would ask two quick questions to decipher whether your throat pain warrants a doctor's visit.
"Those questions would be: Do you have a cough, and have you had a fever in the last 24 hours?" said Dr. Andrew Fine, study author, in a statement.
The app would compare the data entered by the patient to the laboratory standards that deem whether a sore throat is in fact strep throat.
With more than 48,000 of the study participants going into their doctor's office to receive laboratory results, about 24 percent of them were positive for strep. The 23,600 participants who assessed themselves at home with the app found that 24 percent of this group tested positive for strep throat.
Of these patients, 48,089 were tested for strep throat using laboratory tests at a health clinic, while 23,687 used the home strep test.
Study authors hope that their findings could help clinicians and patients to evaluate the probability of the sickness to get patients the most suitable and needed care. And hope it will also help those patients who have a more severe case to get the care they need right away and not to delay treatment.
Those who scored at a low-risk using the at-home app to assess their sore throat could possibly cut physician visits by nearly 230,000 a year. They believe this could also reduce the number of unneeded antibiotic prescriptions each year.
Some experts are on the skeptical side and believe it's too early to use this test as the sole determination and that it may be useful in the future with more research.
Related Posts
Comments
About the Author
Sarah Scroggins, health enews contributor, is the director of social media at Advocate Health Care and Aurora Health Care. She has a BA and MA in Communications. When not on social media, she loves reading a good book (or audiobook), watching the latest Netflix series and teaching a college night class.