Arm lifts: The new trendy nip, tuck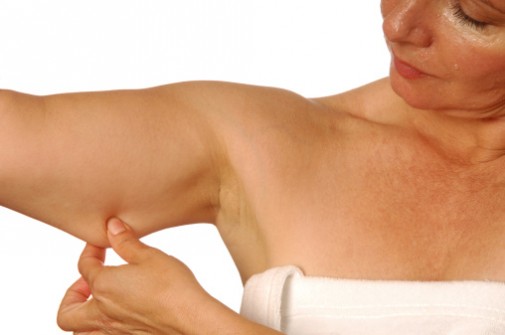 Plastic surgery for your arms? Believe it or not, in 2012 alone, more than 15,000 women went under the knife for cosmetic surgery on their arms, according to the American Society of Plastic Surgeons (ASPS).
However, a decade ago this practice was so uncommon that only 300 women elected to have the same cosmetic procedure. In the last ten years, arm lifts in women have skyrocketed more than 4,000 percent.
Cosmetic surgery on the arms can include liposuction or brachioplasty, which surgically removes loose or excess skin from the back of the arms. Liposuction is used to refine and tone arms.
When undergoing brachioplasty, a plastic surgeon makes a large incision from the elbow to the armpit and removes the unwanted skin. The downside of this procedure is that it leaves a large visible scar on the back of the arm.
"It's a trade-off. We get rid of the skin, but we leave a scar," said ASPS public education committee chair, Dr. David Reath, in a statement. "…As long as there's enough improvement to be made in the shape of the arm to justify the scar, then it's a great procedure."
Some doctors believe that there can be various reasons this cosmetic procedure has received increased attention. Possible reasons might bethe transition to more revealing fashion trends or the heightened attention on celebrities and their physiques. For example, Michelle Obama, first lady of the United States, has received international attention for her toned biceps.
Another reason this procedure has received increased attention could be due to successful weight-loss programs. As women go on diets and lose weight, they may end up with excess skin on their arms. Dr. Reath said after major weight loss "the first surgery they typically want is a tummy tuck, to get rid of excess skin on the abdomen. But then after that, the arms are the next thing."
Whether a person decides to move forward with cosmetic surgery, they should understand the benefits and risks of surgical procedures.
"Cosmetic surgery should not be the first step towards getting the perfect body. It is always important to maintain a healthy diet and exercise regularly," says Dr. Niki Christopoulos, plastic and reconstructive surgeon with Advocate Medical Group, on staff at Advocate Christ Medical Center in Oak Lawn, Ill.  "If a man or woman decides to pursue cosmetic surgery, it is important that they are aware of all options before moving forward with surgical procedures."
Related Posts
Comments
About the Author
Liz Donofrio, health enews contributor, is a marketing specialist at Advocate Health Care. As a newlywed, she is happy to be done planning her wedding and enjoying spending time with her husband and new extended family. In her free time, you can find Liz cooking new tasty recipes for her family, attending Chicago sporting events and chasing after her shih tzu-yorkie, Buttons.