When memory loss signals something worse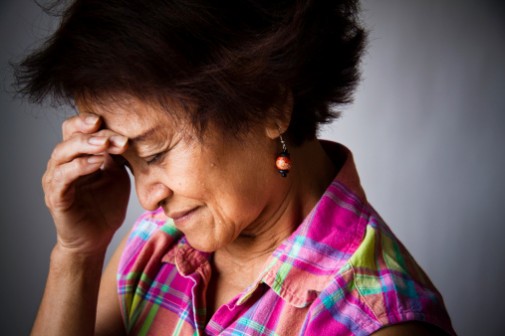 More than 5 million Americans are living with Alzheimer's Disease, according to the Alzheimer's Association. It's the most common form of dementia, with one in three seniors dying from the disease.
So when an elderly relative or friend starts forgetting family members' birthdays, or where he or she put the car keys, it's natural for loved ones to be concerned. And you may ask yourself if it is just a normal part of aging, or something far more serious.
Dr. William Rhoades, geriatrics specialist with Advocate Medical Group in Park Ridge, Ill., says these questions often comes up, and there are some clear warning signs that should always prompt a family member to call a physician.
"When memory loss significantly impacts a person's life and gets in the way of function," he says. "It's one thing to forget where you put your car keys…it's another thing to forget to pay the bills for an entire month."
Dr. Rhoades says another difference between simple memory loss and Alzheimer's, is whether a person realizes they're struggling with their memory.
"If they notice it themselves, that's somewhat reassuring, but typically people with dementia and Alzheimer's don't realize that they're struggling," he says.
Dr. Rhoades says there are differences in the types of forgetfulness.
"If Mom or Dad says they need to take notes more often but as long as they write things down they remember," he says, "that's not as concerning as if you come to pick Mom up for a doctor's appointment in the afternoon and she's still in her pajamas and says she doesn't know anything about a doctor's appointment."
Another early indicator of Alzheimer's can be "visual, spatial things – the 'map in the head,'" Dr. Rhoades says. "Getting lost while driving in familiar places is always a big concern. That's one of the signs I always look for."
Finally, there is what Dr. Rhoades describes as "executive function – the ability to do very typical tasks."
"For example, Dad's been taking care of the yard for decades and suddenly he can't change the oil on the lawnmower," he says, "or Mom's been a great baker all her life and then at the holidays her pecan pie doesn't taste good because she left out the sugar."
Likewise, a sudden decline in someone's appearance – for example, a formerly fastidious person appearing disheveled in public, with uncombed hair and stained clothing – can be telling, Dr. Rhoades says.
"If you observe these in an elderly person, definitely take them to the doctor," Dr. Rhoades says. "Some things are subtle, but these big ones, families should notice and do something about right away."
Related Posts
Comments
About the Author
health enews staff is a group of experienced writers from our Advocate Aurora Health sites, which also includes freelance or intern writers.