3 tips to develop your child's self-esteem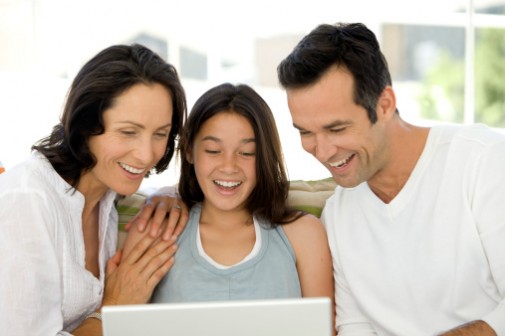 If your child looks in the mirror, what might he say about who he sees staring back? The answers are often a great indication of a child's self-esteem. As parents, it's easy to hope words such as "bright, warm and loving" come to mind. For many children, however, this simply is not the case, which can affect how well they navigate and move forward in the world.
A child's self-esteem is shaped to a great degree by not only their own sense of themselves but expectations of them by others, especially family members, according to the American Academy of Pediatrics. Parents can play a critical role in helping to shape, and often times raise their children's self-esteem.
"Self-esteem is a general sense of feeling good about yourself," explains Dr. Bobbi Viegas-Miller, clinical psychologist with Advocate Medical Group in Park Ridge, Ill. "Healthy self-esteem develops when it is earned in meaningful ways," she says.
Since our sense of self develops very early in life, it's important for parents to help their children shape their self-esteem during childhood.
Dr. Viegas-Miller offers the following tips for how parents can help create healthy self-esteem in children:
Give children a secure sense of belonging and being loved for who they are in the family.
Create opportunities for children to try new challenges in a supportive, encouraging atmosphere where it is OK to struggle or fail in the process of learning.
Give children opportunities to contribute in meaningful ways to the family through responsibilities, cooperative activities and family rules.
One area Dr. Viegas-Miller cautions parents to be careful with is how praise is given. She encourages parents to praise effort, perseverance and other positive qualities they want to encourage in their children. "Make the praise specific and meaningful to what the child is doing. For example, it is more helpful to express, 'I like how hard you studied for that test' vs. 'You are so smart you got an A,' Viegas-Miller says.
When praise is excessive, children can see that it's not earned or sincere, she says, and can cause a negative effect. "They may then mistrust the adult who gives out the excessive praise resulting in the child being less willing to try new challenges or take on new responsibilities or not feeling they need to tackle new challenges because little is expected of them," Dr. Viegas-Miller explains.
Communication is also very important to support self-esteem, particularly for adolescents. "Often teenagers begin to focus on peers as sources of their self-esteem. This a particularly vulnerable time for some teens so it is important to keep the lines of communication open with your teen," she says.
Related Posts
Comments
About the Author
health enews staff is a group of experienced writers from our Advocate Aurora Health sites, which also includes freelance or intern writers.