Lower back pain is the number one cause of disability worldwide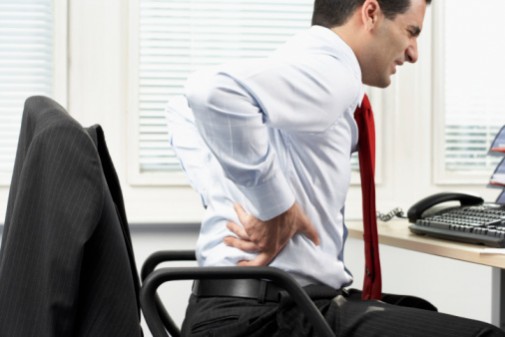 Lower back pain is the cause for more disability worldwide than any other condition, according to research published in the journal Annals of the Rheumatic Diseases. The researchers claim that as the population ages, this issue will become a much larger problem in the decades to come.
The team studied data from the Global Burden of Disease 2010 report, which examined poor health and disability arising from all ailments in 187 countries. They found that out of 291 conditions studied, lower back pain was "at the top in terms of years lost to disability and sixth in terms of disability adjusted life years (DALYs)."
According to their research, lower back pain affected 9.4 percent of all people worldwide in 2010, with men more likely to report suffering from the condition than women.
Lower back pain, for the purposes of this study, was defined as "pain in the area on the posterior aspect of the body from the lower margin of the twelfth ribs to the lower glutaeal folds with or without pain referred into one or both lower limbs that last for at least one day."
What can you do to help lower your risk for experiencing back pain?
According to the National Institute of Arthritis and Musculoskeletal and Skin Diseases, back pain is more common in people who are not as physically fit.
"People need to make sure they're exercising at least a half an hour, five times a week," says Kav Hagopian, a physical therapist at Advocate Condell Medical Center in Libertyville, Ill. "But you need to be conscious of protecting your back while exercising, of course."
In addition, Hagopian recommends taking the following steps to reduce your risk for lower back pain:
Exercise regularly and keep your back muscles strong. Exercises that increase balance and strength can decrease your risk of falling and injuring your back or breaking bones. Exercises such as tai chi and yoga—or any weight-bearing exercise that challenges your balance—are good ones to try.
Eat a healthy diet. Eating to maintain a healthy weight—or to lose weight, if you are overweight—helps you avoid putting unnecessary and injury-causing stress and strain on your back. To keep your spine strong, as with all bones, you need to get enough calcium and vitamin D every day.
Practice good posture, supporting your back properly—while sitting at your desk or in your car. Also, if necessary, look at your workstation to see if there's anything you can do to make it more spine-friendly.
Related Posts
Comments
About the Author
health enews staff is a group of experienced writers from our Advocate Aurora Health sites, which also includes freelance or intern writers.