How to boost your protein with veggies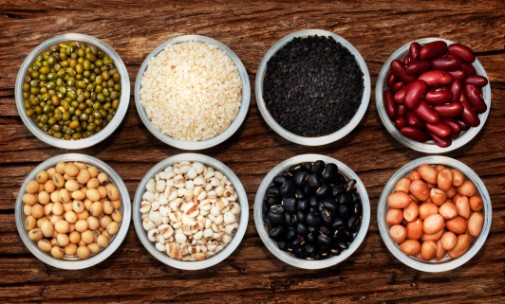 Protein serves as the building blocks for our blood, bones, cartilage and muscles so it's essential for everyone and a key part of our diet. Interestingly enough, when most people consider adding foods high in protein to their diet, usually only one type comes to mind. Animal proteins, right? Plant-based proteins in the form of vegetables, however, can offer many benefits that may often be overlooked.
All vegetables and grains contain some amount of protein, but the highest amounts are found in beans and legumes, nuts and seeds, and foods made from these items including nut butters, seitan, tempeh and tofu.
Catherine LaBella, registered clinical dietitian at Advocate Lutheran General Hospital in Park Ridge, Ill., points out that although vegetable proteins are not "complete," meaning they don't contain all of the essential amino acids the body needs, mixing things up regularly can help.
"In the past, combining different proteins at the same meals were recommended, but we now know that eating a variety of vegetable proteins throughout the day will provide us with sufficient amounts of all those essential amino acids," says LaBella.
This goes for vegans and vegetarians as well, who may need to do a bit more careful planning of meals to ensure they're getting the proper amount of protein in their diet. LaBella says eating a variety of foods and making sure to include some higher vegetable protein sources daily is important.
"If there is concern that protein needs cannot be met from food alone, supplements are available. Some of these supplements are soy-based, however, and may not be appropriate for everyone," she cautions.
How much is 'enough protein?'
According to ChooseMyPlate.gov, the amount each person needs varies depending upon how old you are, your gender and how active you are.
On average, LaBella says, men need 56 grams of protein per day, and women need 46 grams per day. For pregnant and lactating women, the number jumps to 71 grams of protein per day.  Medical conditions can also affect protein needs so some patients will require less and some will require more.
If you're a strength-training athlete, LaBella recommends striving for 1.4 to 1.8 grams per kilogram per day while endurance athletes need 1.2 to 1.4 grams per kilogram per day.
How do I work this into my diet?
Vegetable proteins are fairly simple to add to your diet, says LaBella. Here are a few of her recommendations:
Beans and legumes can be added to salads and soups as well as pasta and rice dishes.
Canned, drained beans are a great option as they're ready-to-eat and don't require the soaking and cooking that dried beans do.
Pestos can be made from a variety of seeds and nuts.
Seeds and nuts can be added to yogurt or smoothies or added to salads.
Quinoa, which is actually a seed, can be added to soup and salads or used in place of rice.
Try adding a new protein source to your diet such as pepitas (pumpkin seeds) or almond butter.
Regardless of how you work vegetable proteins into your meals, LaBella says there's a simple formula for how an ideal plate looks at mealtime.
"A healthy plate should be 1/4 whole grains, 1/4 lean protein (meat/chicken/fish if you choose to eat them) and 1/2 vegetables and fruits, being a little heavier on the vegetables," she says. "A side of low-fat dairy can also be included."
Related Posts
Comments
About the Author
health enews staff is a group of experienced writers from our Advocate Health Care and Aurora Health Care sites, which also includes freelance or intern writers.