Making a difference, one patient at a time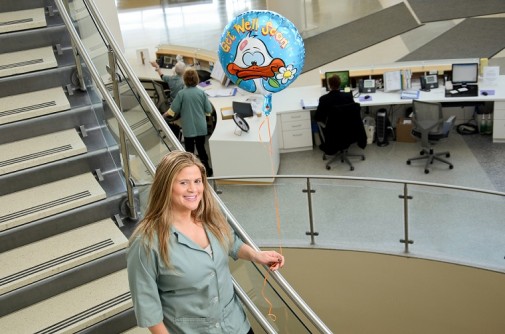 It's bright and early on a Sunday morning. While many are still sleeping, Lisa Gregorich is visiting the rooms of cancer patients at Advocate Sherman Hospital in Elgin, Ill. With her bright smile and bubbly personality, she brings positive energy and comfort to those who need it most.
Volunteering at Sherman
In March 2013, Lisa, 36, inquired about volunteering opportunities at the hospital. She now spends her Sunday mornings providing encouragement, support and friendship to cancer patients and their families.
"I'll ask the nurses what patients I can go visit and who needs cheering up," Lisa says. "I've yet to meet a patient who I haven't made smile."
Lisa shares a story about an older man she befriended who had recently been diagnosed with lymphoma. When she met him for the first time, he appeared sad and defeated. She introduced herself and started talking with him to take his mind off being in the hospital. Before leaving his room, Lisa said she would be back next week. He replied, "Sure you will. " Surprised by his response, Lisa replied, "Really? You have no idea who you just met! You'll see."
She promised that she would bring him a balloon every Sunday. When she returned the following Sunday with a giant balloon, the expression on his face was priceless.
In addition to visiting with patients, Lisa helps restock supplies and put together admission kits. She also assists patients with showers and transports them to the main lobby after being discharged. Lisa often decorates the floor and wears a costume on holidays. On Halloween she dressed up and handed out candy to patients and their families.
"The Oncology floor is such a serious place, so I try to make it a little more fun," she says.
A life-changing experience
Lisa's mission of helping cancer patients and caregivers began with a life-changing experience at a young age. Fourteen years ago, Lisa's fiancé Marshall was diagnosed with testicular cancer at the age of 23. She was by his side as he underwent long hours of chemotherapy, sometimes eight hours a day, at Kellogg Cancer Center in Evanston, Ill.
"I was only 22 when he was diagnosed—at that age you don't think cancer," Lisa says. "We both thought he just had the flu, nothing too serious."
While at the hospital, Lisa and Marshall made friends with many of the cancer patients and nurses. Through this experience, Lisa began to realize the importance of staying positive and connecting with others during a difficult time.
"Marshall used to tell me he felt like the most popular kid in high school during his long chemotherapy sessions," she says. "He was always very brave, so I learned to be brave around him too."
Making a difference
Ultimately, Marshall lost his battle with cancer in April 2000. From that point forward, Lisa made it her mission to make a difference in the lives of cancer patients and their families.
To raise funds for cancer research, Lisa planned a charity event at a local restaurant.
"I shared Marshall's story with local businesses and people in the community to help make the event a success," Lisa says. "I wanted to show everyone that you can turn a difficult experience into something amazing and positive."
Through the charity event, silent auction and fundraising efforts, Lisa raised $50,000 for Kellogg Cancer Center—entirely on her own. In gratitude for her efforts, a plaque was dedicated in Marshall's honor.
Realizing that her experience could make a difference, Lisa got involved with the American Cancer Society as a volunteer and chairman for Relay for Life.
"I would go to local high schools and talk to classes about Marshall's story and cancer awareness as well as the importance of yearly physicals," Lisa says. "When we're young we think we're invincible, but the reality is that cancer can happen at any age."
A positive impact
For Lisa, volunteering at Sherman is an opportunity to use her personal experience to positively impact others who have been affected by cancer. Currently, she is in the process of certifying her Husky, Koopa, as a pet therapy dog. She looks forward to bringing him on the floors and the Center for Cancer Care to lift patients' spirits.
"I'm motivating people and helping them through a tough time," she says. "I think about the fact that I didn't have that person to turn to when Marshall was sick, so now I want to be that person."
Photo credit: James Jordan Photography.
Related Posts
Comments
About the Author
health enews staff is a group of experienced writers from our Advocate Aurora Health sites, which also includes freelance or intern writers.