5 common foot and ankle conditions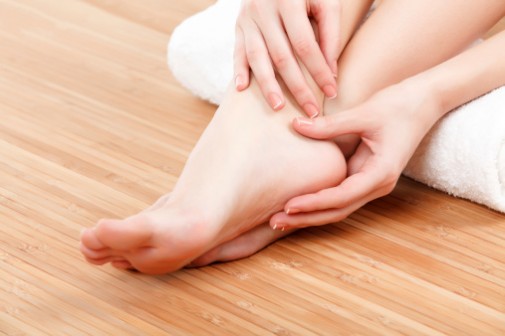 We use them daily. We walk on them and they hurt – feet. Shoe styles, extreme sports and high intensity exercise are all common reasons people experience foot and ankle injuries. According to the American Academy of Orthopaedic Surgeons, 75 percent of Americans will experience foot health problems of varying degrees of severity at one time or another in their lives.
Dr. Douglas Solway, podiatrist at Advocate Lutheran General Hospital in Park Ridge, Ill., says the following are 5 of the most common foot and ankle conditions:
Plantar fasciitis and Achilles tendinitis
Plantar fasciitis, otherwise known as pain in the bottom of the heel from running or being on your feet often on hard surfaces, is a common foot and heel condition. It's an overuse injury affecting the sole or flexor surface (plantar) of the foot. A diagnosis of plantar fasciitis means you have inflamed the tough, fibrous band of tissue (fascia) connecting your heel bone to the base of your toes. Another common overuse injury called Achilles tendinitis is caused by inflammation of the tendons. Weekend athletes often suffer from it.
Ankle sprains
Ankle sprains are a common injury caused by activity. Walking on uneven surfaces and sports injuries are usually how these sprains happen. There are three categories to an ankle sprain:  A mild sprain is a grade one, a moderate sprain is a two and a severe strain is a three. The amount of force determines the grade of the sprain. Emergency room treatment is not needed for the most common grade one ankle sprain. Most sprains can be treated with ice compression, continuous activity or physical therapy. No activity can worsen soreness.
Predisclocation syndrome
Predisclocation syndrome is due to the anatomical structure of someone's foot. Inflammation of the second toe joint causes pain in the balls of the foot. According to Dr. Solway, five to six people a week are treated for this condition under his care. A hammertoe deformity of the second toe is usually present with this condition. It actually worsens as the condition progresses.
Dermatological issue
Athlete's foot or warts are considered dermatological issues. Warts are small, rough growths that resemble a blister. They are caused by a viral infection, specifically human papillomavirus (HPV). Athlete's foot is caused by a skin condition or fungal infection that affects the sole of the foot and the skin between the toes.
Bunions and hammertoes
Bunions and hammertoes are a hereditary skeletal issue. These deformities can affect any toe on the foot; however more commonly affect the second or baby toe. It results in the second or third toe shifting downward instead of up. Overtime these conditions can progress, resulting in pain when walking or in shoes. Dr. Solway says that shoes do not cause the bunions or hammertoes; however they irritate the issue.
Dr. Solway suggests most of these foot and ankle conditions can be treated at home with ice compressions, better shoes or just by keeping the joints moving while getting back to physical activity.
"People that get back to activity quicker recover from foot and ankle injuries at a better rate," Dr. Solway says. "However, some more hereditary deformities require surgery and/or medication."
For more information on common foot and ankle conditions and if you live in the Chicagoland area, attend Dr. Solway's community lecture series on Tuesday, April 15 from 7 – 8 pm in Park Ridge, Ill. The lecture is free, however registration is required: call 1.800.3.ADVOCATE (1.800.323.8622) or visit advocatehealth.com/luth click on "I need a class or support group" and enter class code 8G52. 
Related Posts
Comments
About the Author
health enews staff is a group of experienced writers from our Advocate Aurora Health sites, which also includes freelance or intern writers.