Fighting stress with companions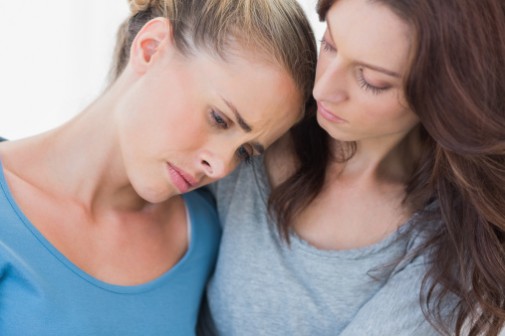 If you're ever feeling stressed out – taking a test, working on a big project at work or making a big life decision – a recent study may have the answer.
Lead researcher, Professor Sarah Townsend of USC Marshall School of Business in California and a group of authors, hoped to find out just how having a support system of people who share the same emotions can help a stressful situation.
"For instance, when you're putting together an important presentation or working on a high-stakes project, these are situations that can be threatening and you may experience heightened stress," said Townsend, in a statement. "But talking with a colleague who shares your emotional state can help decrease this stress." 
The study, published in the journal Social Psychological and Personality Science, asked 52 women to partake in a public speaking experiment.    
They were then asked to prep and give a speech on video with a partner. And also were asked to talk about their feelings with each other throughout the process.
After the video project was complete, researchers then asked them a series of questions to determine each female's emotional state, and also tested their stress hormone cortisol levels.   
They found that by having a partner in a stressful situation who is in the same situation as you, safeguards the person from having an increased stress level. Just having a friend or co-worker by your side who shares the same feelings or can relate to your situation can actually make things much better.
Townsend said to envision being under stressful circumstances at your job and then talking with a co-worker who you relate to on an emotional level. Researchers hope these study results can help people find comfort and relate to those who have similar emotions to better deal with stress.
Authors are hopeful that this study can lead to further research on stress in the workplace, classroom and among cross-cultural groups.
Related Posts
Comments
About the Author
Sarah Scroggins, health enews contributor, is the director of social media at Advocate Aurora Health. She has a BA and MA in Communications. When not on social media, she loves reading a good book (or audiobook), watching the latest Netflix series and teaching a college night class.