Should health screenings differ for adults with Down syndrome?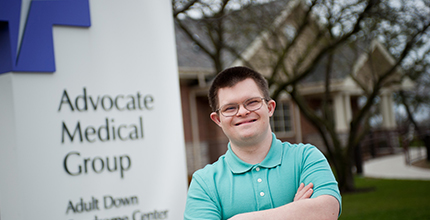 What preventive health screenings are important for adults?   For years, the answer has been pretty standard. Mammograms, colonoscopies and pap smears are all medical screenings routinely recommended for most adults at a certain age.
But could screening standards be different for persons with Down syndrome? That's a question researchers are currently studying. Because the prevalence of certain diseases can be much different for patients with Down syndrome, should the screening standards also be different?
"We see lower rates of most cancers and atherosclerotic disease in adults with Down syndrome," says Dr. Brian Chicoine, medical director of the Advocate Medical Group Adult Down Syndrome Center (ADSC) at Advocate Lutheran General Hospital in Park Ridge, Illinois. "If that is the case, should we reconsider screening guidelines for our patients?"
Dr. Chicoine says that people with Down syndrome are more at risk for complications from anesthesia.
"Therefore, some screenings, for example, a colonoscopy, may put a person with Down syndrome at increased risk for complications from anesthesia," he says. "So does it make sense to do it? We are studying that question."
The ADSC has provided primary care for more than 5,500 persons with Down syndrome. That's what make the Center extremely unique; the only one of its kind in the nation.
Dr. Chicoine is helping his patients make these decisions every day. The goal of his research is to provide evidence-based recommendations. He hopes it will prompt discussion among experts in the field.
"Celiac disease is more common in people with Down syndrome," Dr. Chicoine says. "For most people, a blood test is highly accurate and used to assess the need for performing an endoscopy and biopsy to confirm the diagnosis. However, findings at the ADSC indicate the blood test is less accurate in people with Down syndrome and may lead to many unnecessary endoscopies."
Dr. Chicoine says that further study is needed to develop an improved approach to diagnosing celiac disease in people with Down syndrome.
These questions are more important today than ever before, he says. Research shows that persons with Down syndrome are living longer. The average life expectancy in the 1980s was 30 years old, today it is 60, according to the National Down Syndrome Society. Dr. Chicoine says this is because of the advances in treating congenital heart disease and infectious diseases that once took their lives far earlier.
"We now need to consider screenings for adults with Down syndrome that were not necessary before," he says.
"Our research is about doing the right thing for our patients," Dr. Chicoine says. "It's about making sure we do not put people through unnecessary, expensive testing that could put them at risk for complications and side effects. On the other hand, there may be testing that is indicated for people with Down syndrome that is not indicated for others due to the frequency of certain health problems. It is time to take another look at what we recommend."
Related Posts
Comments
About the Author
Evonne Woloshyn, health enews contributor, is director of public affairs at Advocate Children's Hospital. Evonne began her career as an anchor and reporter in broadcast news. Over the past 20 years, she has worked in health care marketing in both Ohio and Illinois. Evonne loves to travel, spend time with family and is an avid Pittsburgh Steelers fan!