Reconstructive surgery fixes jaw condition, cleft palate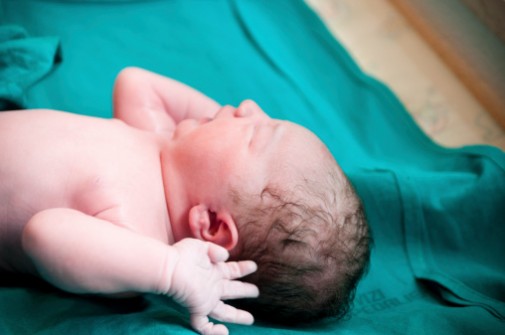 When the Fords' first child was born with complications, it was difficult for the new parents.  Ace, born with Pierre Robin Syndrome or PRS, had major difficulty breathing. He couldn't lay on his back, breastfeed, receive milk from a bottle or retain weight because of it.
According to the Cleft Palate Foundation, Pierre Robin Complex or Syndrome is the name given to a birth condition that involves the lower jaw being either small in size (micrognathia) or set back from the upper jaw (retrognathia). As a result, the tongue tends to be displaced back toward the throat, where it can fall back and obstruct the airway (glossoptosis). Most infants, but not all, will also have a cleft palate, but none will have a cleft lip.
In Ace's case, he had a small lower jaw, which set his jaw bone far back, and upper airway obstruction. The position of his jaw didn't allow proper room for his tongue, which caused the airway obstruction. He also suffered from a severe cleft palate.
Ace's mom, Mandy, searched the Internet for treatment for her son. It was there she found the Cleft Lip and Palate Clinic at Advocate Children's Hospital in Park Ridge, Ill. At just 16 days old, Ace was seen in the Cleft Clinic and admitted to the hospital the same day. "It was very overwhelming," says Mandy. "We thought we were going home, and then we realized Ace was being admitted and wouldn't be able to go home."
According to Dr. Frank Vicari, pediatric plastic surgeon at Advocate Children's Hospital in Park Ridge, "The obstruction was so significant we didn't let the family go home but admitted Ace directly to the NICU," says Vicari. "It was a matter of life or death," he adds.
After a few days of being in the NICU on a feeding tube to acquire weight, a multidisciplinary team of pediatric physicians performed distraction osteosynthesis or bilateral osteotomy of mandible behind the teeth. Dr. Vacari describes this procedure as breaking the lower jaw bones on both sides of the teeth to allow the placement of distraction devices. These devices allow the bones to move apart in multiple directions, avoiding the need for a tracheostomy, a surgical procedure that places a tube through the trachea (windpipe) to provide an airway.
"Eight days later, Ace had an essentially normal mandible, normal airway and is now breathing comfortably on his back," says Dr. Vicari. "He is on his way back to life as normal."
Today, out of danger, Ace is able to bottle feed and no longer at risk of needing a tracheotomy. According to Ace's mom Mandy, "He no longer has breathing issues and now he even smiles."
Related Posts
Comments
About the Author
health enews staff is a group of experienced writers from our Advocate Health Care and Aurora Health Care sites, which also includes freelance or intern writers.