Training for a marathon, nine years after horrific fall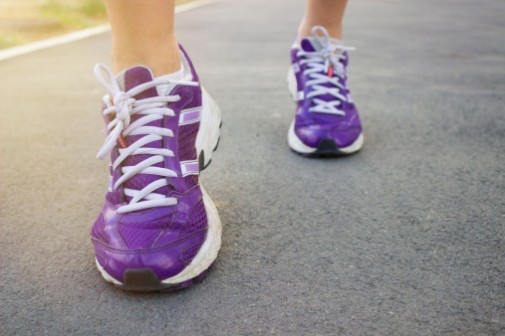 Nearly nine years ago, on a warm summer's night, Allison Gwin Kerrigan says she was chatting with a friend and enjoying the balmy weather on her friend's back porch. She casually leaned on the railing of the Lincoln Park apartment and, the next thing she knew, she was in an ambulance with chaos all around her. 
The railing she leaned on had been rotted and snapped. Kerrigan fell four stories to the ground below. 
"I'd just moved to the city and was unaware of the long history of porch issues that had made the news," she says. "I learned about them afterwards."
Kerrigan was taken to Advocate Illinois Masonic Medical Center in Chicago, the Level I Trauma Center closest to her fall. There, she eventually learned that she'd not only suffered a traumatic brain injury (TBI), but that the list of her injuries was long and many were severe.
She broke two vertebrae in her neck and back, as well as most of her ribs. Her right lung had collapsed. Her shoulder bone was cracked, her pelvis was shattered and her hip socket chipped. The nerves in her right arm were damaged, her right triceps torn, she suffered extensive musculoskeletal bruising and sustained bruising to her spine. 
Thanks to the quick work of the EMTs and her trauma physicians, Kerrigan says she didn't need surgery, despite a paramedic telling her later that, if she'd turned her head even a fraction more when she fell, she most likely would have been paralyzed. 
While recovering in her hospital bed, even before the rigors of months of physical therapy to repair the damage that had been done, Kerrigan says she made a promise to herself to run the Chicago Marathon. 
"I'll never forget that promise. I'd been transferred to step-down unit and a chest tube had been inserted," she says. "They couldn't even take me to x-ray. It was just too painful. I remember—it's always stayed with me—how I realized right there how much I'd taken for granted – the ability to breathe without issue, the ability to use my limbs without pain and being mentally sharp. I wasn't going to ever take that for granted again. The Chicago Marathon is the ultimate test, and I made a promise to myself that I would run it." 
This October, following years of recovery and aborted training attempts due to continued complications from the many injuries sustained in her fall, Kerrigan plans to run the Chicago Marathon to keep that promise.
Now living in Austin, Texas., with her husband and fifteen-month-old daughter, who she says is "so full of life and so much fun," Kerrigan, who owns her own interior design business, has been working slowly and steadily in her marathon training, careful to compensate for past injuries and determined to see the race through to the end. She joined a local training club, Gilbert's Gazelleswhere she's being coached and encouraged by her "amazing running coach" Gilbert Tuhabonye, who tells her group to "run with your heart, run with joy."
Kerrigan says she joined Advocate Health Care's Inspired to Run Chicago Marathon team to give back to those who gave her so much by saving her life and mobility. Typically, proceeds raised by the team's runners are directed to their choice of established funds through the Advocate Charitable Foundation. "I knew I wanted to dedicate my run to my doctors and EMTs, but I didn't feel dedicating my run was enough." 
While considering which fund she wanted to contribute her efforts to, she realized she was in a unique position to address what she felt was a treatment gap for TBI. 
"After I was released from the hospital, my mother had to move in with me until I had healed enough to travel to my parent's home in Alabama to be cared for there," she says. 
This was the best option after her insurance company did not approve the inpatient rehabilitative care center prescribed by her doctors at Illinois Masonic Medical Center as treatment for her TBI and physical injuries, upon release from the hospital.
As a result, together with the Illinois Masonic Medical Center Development team and Dr. Richard Fantus, Kerrigan has worked with the Advocate Charitable Foundation to establish a fund for the treatment of traumatic brain injuries at Illinois Masonic Medical Center. She also is partnering with them to develop a comprehensive cognitive rehabilitation program for traumatic brain injury recovery. 
"Your physical injuries, as challenging as they are—they heal," Kerrigan says. "The head trauma made everything more complicated for me. It affects you emotionally, mentally and physically. I felt there were treatment gaps. As common as TBIs are (the Centers for Disease Control and Prevention estimated 2.5 million in 2010), there's still a lot of research that needs to be done," she says. "So I spoke with my family to see where they felt I could have used more support and treatment. And they echoed what my heart said. While my brain was recovering, I would have benefited from a program that would have been an ongoing cognitive rehabilitative program at the hospital. I thought, well, that's it—why don't we start something like that?"
With her marathon run establishing the first drop into what she hopes will become a very big financial bucket, Kerrigan said she looks forward to working with the physicians and clinicians throughout the Advocate Health Care system to establish a full-fledged TBI program. And, based on success of that program, she sees the opportunity to reach beyond the boundaries of Chicago, and even Illinois.
She's already been busy speaking with other TBI survivors and physicians between training, her business and her family. 
"I see opportunity to address the TBI treatment gap issue on a national scale," she says. "We are currently evaluating what an organization that would do so could look like."   
As for the big race itself, Kerrigan is feeling very positive about it. 
"I have a little anxiety about it—it's such a big endeavor," she says. "But I take it day by day, taking the small steps. If I have a set-back, I forgive it and move on. I'm confident I will be finishing it. Coach tells me not only going to finish, but I'm going to be fast. 
"Believe it or not, it's going to be a lot of fun." 
And knowing that she's running for something that could, potentially, change the lives of many is a great motivator.
"I know that I'm running for something that's so much bigger than me," she says. "I think about that a lot, when I'm tired or don't want to get out of bed to train, when it hurts. 
"I think about that promise I made and I know I'm going to make it."
Related Posts
Comments
About the Author
health enews staff is a group of experienced writers from our Advocate Aurora Health sites, which also includes freelance or intern writers.