Putting sleep apnea and heart problems to bed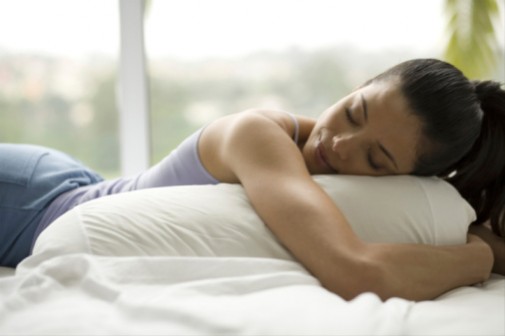 Men and women who struggle through nights of unrestful sleep and days of extreme tiredness due to obstructive sleep apnea may find more benefits than just a better night's sleep if they use a continuous positive airway pressure (CPAP) mask. That's because a CPAP mask also can apparently lower blood pressure, according to new research.
That study, published in the June 2014 edition of The New England Journal of Medicine, followed more than 300 obstructive sleep apnea (OSA) patients with heart disease or multiple heart disease risk factors.  The patients were randomly selected to receive either education on healthy sleeping habits or both education and treatment with CPAP or supplemental oxygen.
Researchers from Brigham and Women's Hospital measured patients' blood pressure during  a 24-hour period before and after 12 weeks of study participation and found a significant reduction in the blood pressure of patients who wore CPAP compared to the control group who received education only or those given supplemental oxygen.
CPAP is a widely used treatment that helps keep airways open in sleep apnea patients to improve quality of sleep. On many nights, these patients wake up abruptly or sleep lightly due to pauses in their breath or shallow breathing.
"The effect of CPAP on blood pressure in this study is important for both physicians and their patients," said Dr. Daniel Gottlieb, lead study author and a physician-scientist in sleep and circadian disorders, in statement. "Previous studies have demonstrated that a decrease in blood pressure of this magnitude is associated with up to 20 percent reduction in mortality from stroke and 15 percent reduction in cardiovascular mortality."
Dr. Muhammad Hamadeh, a pulmonologist at Advocate Christ Medical Center in Oak Lawn, Ill., says a very strong correlation exists between obstructive sleep apnea and high blood pressure. "At least 50 percent of patients with OSA have hypertension, and 80 percent of patients with difficult-to-control hypertension have OSA."
The heart health benefits of CPAP don't just stop with lowering blood pressure. "The sleep disorder treatment also improves heart function in obstructive sleep apnea and congestive heart failure patients and reduces the risk for heart attacks and strokes," Dr. Hamadeh says.
And, for the very reason that many sleep apnea sufferers CPAP treatment in the first place, CPAP is noted for drastically improving the quality of sleep, thereby enhancing daytime alertness and cognitive function.
Related Posts
Comments
About the Author
Julie Nakis, health enews contributor, is manager of public affairs at Advocate Children's Hospital. She earned her BA in communications from the University of Iowa – Go Hawkeyes! In her free time, she enjoys spending time with friends and family, exploring the city and cheering on the Chicago Cubs and Blackhawks.